Herbalife Launches Re-Training
May 7, 2014
By Tina Williams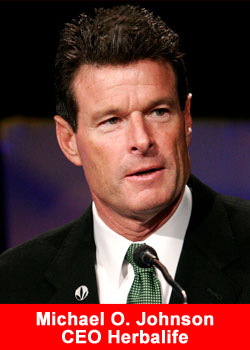 The nutrition and diet shake company Herbalife has undertaken a "significant re-training initiative" in response to incidents captured by ABC News undercover cameras in which some of the company's independent distributors were seen making medical claims about the products and boasting about the potential for riches.
"In direct response to the interview where Brian Ross brought to light instances of members making unauthorized product claims, the company began a significant re-training initiative," Herbalife spokeswoman Barb Henderson said in an email Monday.
With every product order, the company is now shipping a guide book that contains detailed examples of what distributors can and cannot say about Herbalife products, Henderson said.
During the ABC News investigation into Herbalife, two reporters went undercover as Herbalife recruits and recorded interactions with independent Herbalife distributors in the New York area. They attended entry-level training seminars run by local distributors and national corporate-run Herbalife conferences.
All of the sessions featured personal testimonials from distributors touting the nutritional and weight loss benefits of Herbalife's products and the business opportunities presented by distributorship. But in some instances, the undercover investigation found examples of distributors boasting to potential customers that the company's products helped treat maladies ranging from diabetes to heart disease.
A Staten Island, N.Y., Herbalife distributor even told a potential customer — who was actually an ABC News reporter wearing a hidden camera — that a woman with a brain tumor became symptom free after starting on Herbalife products.
"She used to shake like this because she lost control of her motor skills to the tumor and she said part of her cerebellum was deteriorated," he said. "If you see her now, she's like one of us here… Whatever it is that the product did, it helped her a lot."
Herbalife executives told ABC News that the company had taken pains to prohibit such tactics.
"I am appalled to hear you say this," said Herbalife President Des Walsh, when confronted with ABC News findings in an interview. "What is happening there is a complete and absolute violation of our rules."
At the time ABC News recorded the medical claims, Herbalife was distributing training materials that instructed its members to avoid such claims. "Nutrition club members may share their experiences from using the products, but the products are not intended to diagnose, treat, prevent or cure any disease or medical condition, and under no circumstances should there be any statements, advertising or implications to the contrary," one such warning says.
Now, Henderson said, Herbalife has established a hotline through which members and consumers can report potential violations.
"We are also exploring additional options including technology that will allow the company to randomly record testimonials at company-supported meetings and also independent member meetings promoted by the company to identify claims violations, which will assist in speedy application of sanctions up to and including termination," she said.
Source: ABC News