Herbalife To Emerge From FTC Probe Stronger Than Ever
May 3, 2014
By Tina Williams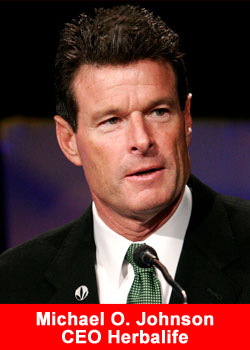 The head of Herbalife Ltd. vowed Tuesday that the Los Angeles nutritional products company would emerge unscathed from a Federal Trade Commission investigation stronger than ever.
I think it's going to clear the air, and I think it's going to be a very good day for Herbalife when this is all cleared up, Herbalife Chief Executive Michael O. Johnson said in an interview with The Times, shortly after the company's annual meeting at its downtown headquarters. I'm a great believer that the truth will prevail to the positive for us.
If they come to us and say, 'You could have done this better,' we'll fix it. There's nothing structurally wrong with this company.
Johnson made his prediction shortly after the company took several steps to reassure investors: announcing record first-quarter sales, stuffing its board with allies of activist investor Carl Icahn and accelerating an aggressive repurchase of its stock.
Herbalife has been under scrutiny for 16 months, since New York activist investor Bill Ackman accused it of operating an illegal pyramid scheme and urged regulators to intervene.
On Monday, Herbalife said it was canceling its dividend and would use the money to buy back $216 million more of its shares than previously planned. Herbalife said it expects to buy as much as $581 million worth of its stock in the current quarter.
Johnson said the company's accelerated stock repurchase plan was not part of a plan to take the company private.
There's not a strategy on our part to do that, he said. What we're doing is buying back cheap shares because we think that's the best opportunity there is.
Investors approved of the news, driving Herbalife shares up $1.30, or 2%, to $60.15 on Tuesday. Still, the stock has dropped 24% since Jan. 1 after gaining 139% in 2013.
Herbalife has been embroiled in controversy since December 2012, when Ackman made his accusations and said he bet $1 billion that its shares would fall.
The company's stock has been highly volatile since then, as it announced it was under investigation by the FTC and Securities and Exchange Commission. Law enforcement sources also said the FBI was looking into the company's business practices.
Johnson said Tuesday that the company has never been contacted by the FBI or Justice Department and is not aware of such an investigation.
We have no knowledge of any ongoing investigation, he said. We haven't received anything formal or informal from either agency.
Still, Herbalife's critics said word of the FBI investigation was an ominous sign.
At issue is the way the company sells its nutrition and weight-loss products. It uses a network of independent salespeople who make money through sales and bonuses based on sales of others they recruit into the business.
Ackman has argued that the company looks the other way while distributors mislead recruits into believing they can become rich, when most of them end up with meager profits — or lose money.
Johnson has maintained for months that the company's business model is legal and used by many other multilevel marketing companies.
The company said it has recently beefed up the disclosures it makes to potential distributors and employs a money-back guarantee that allows them to return unsold product for a full return.
Founded in 1980, Herbalife on Monday reported sales growth for the 18th consecutive quarter. It also raised its earnings estimate for the year, saying it expects adjusted profit to reach $6.10 to $6.30 a share this year, up from a previous forecast of $5.85 to $6.05.
Icahn has been one of Herbalife's biggest supporters, buying 17% of the company's stock and placing two representatives on the company's board. At its annual meeting Tuesday, shareholders added three more, giving Icahn five of the company's 13 board seats.
The board meeting ended in 15 minutes — without a single question from shareholders.
One investor who attended the meeting was Renee Twersky, an accountant from Tarzana.
With all the hoopla going on, I decided to come take a look, said Twersky, who said she owns 2,200 Herbalife shares.
Twersky said she was not swayed by Ackman's attacks because she believes Herbalife's business model is valid and that millions of people use the company's products.
I've never used it, but my housekeeper has and she swears by them, she said. I don't scare easily because I'm a long-term investor.
Source: LA Times