John Haremza – Javita $14+ Million In MLM Career Earnings
May 30, 2014
By Team Business For Home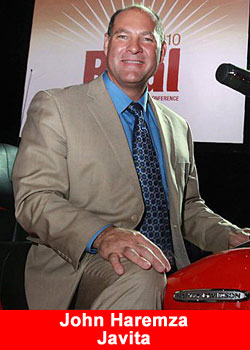 John Haremza lives in Fargo, North Dakota, USA is married 25 years to his wife Jana and has 2 beautiful daughters. John is the master distributor for Javita.
After he graduated high school, John got a job as a machine operator at the potato chip plant. When he was promoted to maintenance manager he thought that this $22,000 a year job was the best job he could ever hope for. Then he was introduced to Network Marketing and his life changed forever.
John's story is one of those American rags to riches, from adversity and obscurity to a life of dreams. Now after spending 25 years in network marketing John has earned over $14+ million in his MLM career. Over the past 25 years John helped his teams earn over $200 million in commissions.
Ted Nuyten had the honor to interview John Haremza:
John, walk me through your career in network marketing. How did you discover network marketing?
As you know I have severe dyslexia which means I can't read. I'm getting better now but all through grade school and high school this was a huge problem for me. I dreaded being asked to stand and read in class.
I still remember being asked to stand and read out loud in class and I would have to stammer and stutter my way through the passage. To this day I can feel the taunting of my classmates and the frustration of my teachers. I had no self-esteem, no self-confidence, and I just wanted to be invisible.
This is incredible particularly in view of the success you've had in this industry. Your rags to riches story is an inspiration and a testimony to the life changing power of network marketing.
Yes, I truly believe that one of the contributing factors of my success is my story. I believe that if I can do it, anyone can do it. Of course they must be with a company with all five elements in place. Anyone can do it if they are willing to stay focused, stay committed and consistent.
They must have faith that they will wake up one day and look back with amazement at how their life has changed.
How did you hear about network marketing?
I was a blue collar worker in the Barrel of Fun Potato Chip plant in Perham, Minnesota.I had been promoted to maintenance manager. I loved my job. In fact, I believed I had the best job I would ever have. My family thought so too. Ironically, this was the first and last job I ever had.
A good friend invited me to come to his place one evening to look at a water filter business he was thinking about joining. I assumed he wanted me to check out the product or build a display. It did not even enter my mind that it would be about selling something.
I was amazed at what I saw that night. The suits from Minneapolis demonstrated a filter that turned the lake water from a murky grey to pristine drinkable water. I wrote a postdated check for $480 and bought four of them right there and then. When I got back to my trailer home my fiancé was not excited!
Did you know anything about network marketing back then?
I knew absolutely nothing, except that network marketing was one of those businesses where you make no money and lose your friends. This is how much I knew ….. there I was in the middle of winter selling water filters, in my spare time, door to door. I used the puppy dog close, "Try one for a week and decide if you want to keep it". My brother saw what I was doing and wanted to join me.
I can remember it as clear as yesterday. I told him, "Ok, I'll let you in but we need to make a pact between us that no one else is to know about it". Back then, I thought why would I want to create competition? Imagine that Ted, here I am trying to build a business and I did not want tell anyone else about it. In fact, I wanted to keep it as my secret.
Well, obviously you figured it out. What happened?
What happened is very simple. I went to an event in Fargo ND. The speaker was Mike Nelson. I made it a point to meet him and told him that I would be knocking on doors in Fargo selling filters right after the seminar. He was incredulous. "I earned over $200,000 last year and I never knocked on a door" he said.
Mike explained the process of recruiting; of selling a dream and not just a filter. I had a total paradigm shift. Suddenly, I understood the concept and the power of leverage. My life has never been the same since that day.
Originally, I thought that if I could earn $3,000 a month and be in my own business I would not know what to do with all that money. Within about 6 months I left my job and went full time in network marketing. I became one of the youngest ever National Marketing Directors with NSA. Over the next four years I earned $400,000 and learned the basics of what works and what doesn't work in network marketing.
It sounds as if you were earning really good money and loving what you were doing. Why did you leave?
One of the top leaders left and I looked around and realized that there were no recent success stories. The problem was timing and the lack of consumable products. I knew that I loved network marketing and I knew I had to move on.
What company did you select?
After studying the industry, I moved to Rexall Showcase International. Back then, Rexall was doing around $2,000,000 a month with health care products. I spent 12 years with RSI and earned $4 million. I was one of their top 15 earners and I was on their Distributor Board of Directors. Unfortunately, the company was sold, then merged, then re-sold, then constant changes were made to the product line and compensation plan.
Those must have been frustrating days.
They were. I was frustrated. I felt as if I was trying to sell the dream and living a nightmare. Then I got a call from the former President of RSI who had resigned when the company was sold. He was starting a company, Waiora, with similar health care products to RSI.
I took a huge leap of faith. I resigned and walked away from a substantial residual income. I just wanted to be excited; to believe in something again.
Waiora has been an incredible ride. It just passed its 10 year anniversary and has a base of dedicated distributors. I earned $9 million with Waiora and I still enjoy a good passive income even though I am not as involved as I once was.
Although the Waiora products are life changing, the market segment they address is small and limited to North America. Stan wanted a global company that widened the funnel to include everyone. He selected coffee initially and then weight loss coffee and now weight loss tea.
Javita has seen 22 consecutive months of month over month growth. Just one year ago in May it passed $1 million a month, then $2 million in November 2013 and now we are approaching $3 million a month.
With so much competition why do you believe that Javita has been so successful?
After 25 years in this business and earnings of over $14 million, I believe that a company must have 5 elements locked in place to be successful. These 5 critical elements magnify and multiply our results. 'No matter how good you are or how hard you work if all 5 critical elements are not in place you will not see the results you want'.
That makes a lot of sense, John. With 25 years in our business and the success you've enjoyed what keeps you going? What excites you every day?
I am excited about Javita. I know that it will be one of the most lucrative things I've ever done, but the thing that excites most me every day is taking one of those people who are struggling and coaching them to the success they dreamt about.
I often think about so many who struggle in network marketing. They come into network marketing with high hopes to change their life. They are working hard and not seeing the success they expected. Like most of us they were introduced to the industry by a friend, a family member or a product. They have no idea what the elements for success are.
I'm not sure if it was luck, wisdom or just good fortune but I have always been successful even with start-up companies. As I look back, I believe that my understanding of those 5 critical elements played a huge role in my career.
We can't go into the 5 critical elements in this announcement but I have learned so much in my career in network marketing and I share these ideas and more of my story at www.johnharemza.com. I believe anyone with any company will benefit from these generic lessons and training videos. You asked what motivated me. Being a mentor and sharing the fundamentals is a huge motivation.
Ted: Thanks very much John. I've been to your site and I agree that those short training videos are invaluable to anyone who wants to be successful in network marketing 🙂