LegalShield CEO To Speak At UCLA's Anderson School Of Management
May 1, 2014
By Tina Williams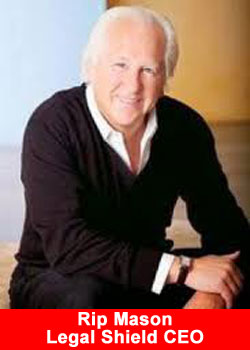 LegalShield, one of the nation's leading providers of legal safeguards for individuals, families and small businesses, announced today that its Chief Executive Officer, Rip Mason, will give a presentation at UCLA'sAnderson School of Management on April 29. The presentation will focus on LegalShield's relevance in the industry, business model and history.
Mason will also address the importance of community involvement for every business, highlighting the company's new Military Outreach program designed to create new business opportunities for reservists and provide donations to Disabled American Veterans.
The molding and shaping of business leaders starts well before they assume a leadership position, said Mason. I'm honored that Mayor Riordan selected me to be a part of his speaker series. It is a testament to all the great work our executive leaders, partners and associates do each day on behalf of our customers and the positive effect they have on the community.
Richard Riordan, the former Mayor of Los Angeles, teaches a leadership and ethics class each semester at UCLA's Anderson School of Management. The course is designed to expose students to different leadership methods and theories they can adopt as they move forward in their careers. A key component of the course is the speaker series, which features 26 national business leaders.
About LegalShield
LegalShield is one of the nation's leading providers of legal safeguards for individuals, families and small businesses. LegalShield also offers one of the industry's most affordable identity theft plans.
Members receive identity theft protection for the entire family for the cost most competitors charge to cover a single individual. LegalShield legal plans cover more than 1.4 million families and 3.7 million lives across North America. More than 34,000 companies offer the LegalShield plan to their employees as a voluntary benefit.
For as low as $20 per month, LegalShield members get access to attorneys who are experienced in the areas of law that most impact families and small businesses. Unlike other legal plans or do-it-yourself websites, LegalShield has dedicated law firms in 49 states and four provinces in Canada that members can call for help without having to worry about high hourly rates.
The attorneys at these firms have an average of 19 years of experience in such areas as family matters, estate planning, financial and business issues, consumer protection, tax, real estate, benefits disputes and auto/driving issues.
In 2013 alone, LegalShield firms received more than 1.8 million calls from members.