Mannatech Announces Joel Bikman As New Chief Marketing Officer
May 20, 2014
By Team Business For Home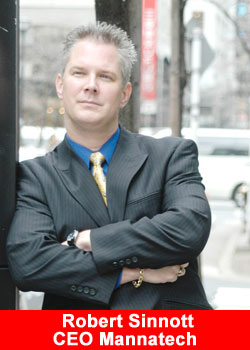 Mannatech, Incorporated (NASDAQ: MTEX), the pioneer of nutritional glycobiology, and leading innovator of naturally-sourced supplements based on Real Food Technology solutions, and creator of the M5M(SM) (Mission 5 Million(SM) ) social entrepreneurial movement, announced updates and additions to its executive management team and corporate structure to further support its strategic plans.
Joel Bikman is joining the company as Chief Marketing Officer. Bob Adam has been named General Manager, U.S. Sales, and Terrie Bayless has been named Assistant General Manager, U.S. Sales.
Joel Bikman joins Mannatech as Chief Marketing Officer, with many years of experience in marketing within both the direct sales and nutritional supplements industry. As Chief Marketing Officer for Mannatech, Mr. Bikman will oversee the company's efforts in product marketing, creative services, communication and overall strategic marketing and research.
Mr. Bikman most recently served as Senior Vice President of Sales and Marketing for TriVita, a wellness and services company based in Scottsdale, Arizona. Previously, Mr. Bikman served as Vice President of Marketing at Freelife International in Phoenix, Arizona, and also Vice President of Marketing at Isagenix International in Chandler, Arizona. Prior to his entry into direct sales, Joel Bikman served as Account Supervisor at Cramer-Krasselt, the second-largest independent advertising agency in the country. Mr. Bikman holds a BA in Communications and an MBA from Brigham Young University in Provo, Utah.
Bob Adam will now serve Mannatech as General Manager, U.S. Sales. In this new role, he will oversee all sales and Associate advocacy efforts specifically for the U.S. market. Bob joined the corporate team in 2004, and served as an Independent Associate leader from 1997 until that time. Mr. Adam has consistently made a significant, measurable impact on Mannatech's field relations since joining the corporate team. Most recently, he created and led the Flight Team program, which focuses on training and coaching of both new and veteran leaders within the company.
Terrie Bayless will now serve as Assistant General Manager, U.S. Sales. Terrie is celebrating her 20(th) year with Mannatech. During that time, Terrie has served several roles within the Sales and Marketing organization. Her extensive experience and awareness of company culture and sales operations will provide much value in serving as an advocate for Associate needs.
As Mannatech continues to evolve and increasingly dedicate itself to our Mission 5 Million movement, it's important to align the corporate organization and support our Independent Associates in a way that moves our vision forward as effectively and efficiently as possible, said Dr. Robert A. Sinnott, CEO and Chief Science Officer.
I'm honored to add Joel Bikman to our team. His expertise in both marketing and direct sales provides a true advantage for Mannatech for the future. I'm also pleased to have Bob Adam and Terrie Bayless step into new roles, where they can exercise not only their professional knowledge and leadership, but also their heart for and experience with Mannatech and its Associates in more influential ways.
Individuals interested in Mannatech's products or exploring its business opportunity are encouraged to learn more at Mannatech.com.
About Mannatech
Mannatech, Incorporated, develops high-quality health, weight and fitness, and skin care products that are based on the solid foundation of nutritional science and development standards. Mannatech is dedicated to its platform of Social Entrepreneurship based on the foundation of promoting, aiding and optimizing nutrition where it is needed most around the world.
Mannatech's proprietary products are available through independent sales Associates around the globe including the United States, United Kingdom, Canada, South Africa, Australia, New Zealand, Austria, Denmark, Germany, Norway, Sweden, the Netherlands, Japan, Taiwan, Singapore, Estonia, Finland, the Republic of Ireland, Czech Republic, the Republic of Korea, Mexico and Hong Kong. For more information, visit Mannatech.com.