MonaVie Is On The Move In Australia
May 14, 2014
By Team Business For Home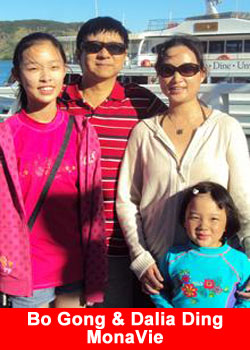 This week we noticed two significant rank advancements within MonaVie Australia.
Each story poses an unique challenge shared by many network marketers, regardless of company affiliation, so we thought we'd share excerpts from each success story with you here.
Part-time to Full-time Network Marketer: How to Make the Transition
Bo Gong and Dalia Ding recently achieved the rank of Purple Diamond Executive within MonaVie; more impressive than that, however, is that they have also recently made the transition from doing the business part-time to now doing it full-time.
"Our MonaVie business really took off last September," says Bo Gong. "When MonaVie opened in Taiwan, Dalia flew to Taiwan and stayed there for more than two months. Since then, Dalia has been working hard and our team is growing quickly. Learning by doing, her skills have improved a lot, and her confidence has really skyrocketed."
They credit their success, in part, to adhering to the following practices:
Set your goal

Take action immediately

Persist in your goal without excuse

Work closely with your active upline and downline

Learn from those who have the experience, skills, and knowledge that will benefit your business
And, according to this dynamic team, the most rewarding part is paying it forward by helping others. "When someone needs help, give them your full support; it's the best thing in the world to see people being successful because of your help," says Bo Gang. "Both of us are now doing MonaVie full-time, and we owe a big 'thank you!' to our upline Shelley Ke for all her support."
Overcoming Others' Industry Bias and Misperceptions
Bo Yuan and Dennis Mansell, new Diamond Executives with MonaVie, originally joined MonaVie because they were keenly interested in living a healthy lifestyle and taking products that would help them achieve their health related goals.
As health professionals prior to MonaVie, Bo and Dennis were a natural fit for the company. Their advancement within the company, and accompanying financial benefits, has made their MonaVie journey a rewarding one.
But their path has not been completely smooth. "Our journey with MonaVie has been promising, but we have also run into obstacles. The negative bias toward direct selling posed a challenge for us," says Bo. "The key to overcoming this is to work closely with your team and learn to enjoy the journey as well as the result.
In the meantime, you are gaining more knowledge by continually studying. The ability to think positively, to plan well, to learn more, as well as to manage more effectively has helped us to grow as we work closely with our team members."
Thanks to their persistence and loyalty, Bo and Dennis have enjoyed immense personal and professional growth and can now say, "We are on the right track with the right people."