Talk Fusion Adds New Social Sharing Feature To Innovative Video Communication Products
May 3, 2014
By Team Business For Home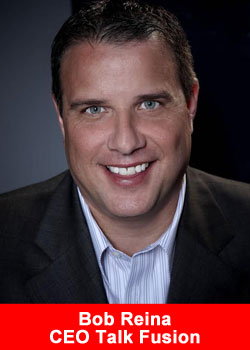 Video Emails and Video Newsletters can now be shared on over 200 social networks instantly
Florida-based Video Communication and Relationship Marketing company Talk Fusion just announced the addition of instant social sharing functionality to its industry leading Video Email and Video Newsletter products.
Social sharing buttons, located on the left side of every template, allow viewers to quickly share the videos they like to Facebook, Twitter and over 200 of the world's most popular social networks.
This new feature has multiple benefits for Talk Fusion Customers and Associates. Videos they upload can now be shared with entirely new social audiences, providing a unique way to quickly broadcast a message beyond standard email correspondence. With thousands of pre-designed templates and the option for full customization, Talk Fusion Video Emails and Video Newsletters command attention and increase exposure—two increasingly valuable commodities in today's busy social world.
In addition to the new share feature, a Facebook Like button now appears at the end of every Talk Fusion video. With one click, viewers can instantly Like the official Talk Fusion Facebook page and stay updated with all of the groundbreaking product developments, latest news, and exciting announcements from the company.
"This is much more than a simple product enhancement," said Talk Fusion Founder & CEO Bob Reina, "Social sharing is a passport to an entirely new world. We can't wait to welcome the next generation of people who see, want and love what Talk Fusion has to offer."
Talk Fusion is constantly enhancing its video communication products as the company continues to grow. Furthermore, two new products are currently in development: Talk Fusion Voice, the company's own social video blog community, and CONNECT Quick Chat, which enables face-to-face video communication from any web-enabled device with zero downloads, plugins or attachments required. Both products are set for release later this year.
ABOUT TALK FUSION
Talk Fusion is a rapidly growing global company dedicated to changing lives through providing cutting-edge personal and business Video Communication Products and a lucrative business opportunity. Talk Fusion's innovative products are marketed person-to-person by independent Associates in more than 140 countries.
The company was founded in 2007 by CEO Bob Reina and introduced the world's first Instant Pay Compensation Plan. Talk Fusion adheres to the highest ethical business practices and is a member of the prestigious Direct Selling Association (DSA). Reina firmly believes that "with great success comes greater responsibility." To that end, his commitment to giving back has benefited numerous charitable organizations. Learn more at www.TalkFusion.com, www.JoinTalkFusion.com and Like Talk Fusion at www.facebook.com/TalkFusion.
Income Disclaimer:
Any earnings portrayed in any Talk Fusion marketing materials are not necessarily representative of the income, if any, that a Talk Fusion Associate can or will earn through his or her participation in the Talk Fusion Instant Pay Compensation Plan. All references to income, implied or stated, throughout the Talk Fusion Instant Pay Compensation Plan are for illustrative purposes only. These figures should not be considered as guarantees or projections of your actual earnings or profits. Talk Fusion does NOT guarantee any level of income or earnings to any Associate; any representation or guarantee of earnings would be misleading. The purchase of a Talk Fusion Product Package is completely optional and is not required for an Associate to participate in the Talk Fusion Instant Pay Compensation Plan.