TelexFree Owners Carlos Wanzeler And James Merrill Charged With Conspiracy To Commit Wire Fraud
May 13, 2014
By Team Business For Home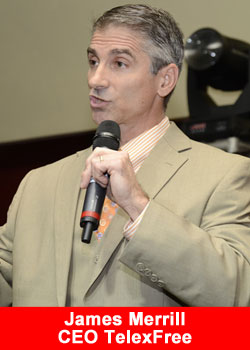 Federal authorities in the USA may be hard-pressed to arrest TelexFree Inc. co-owner Carlos Wanzeler, who apparently fled to Brazil, a country that is not compelled to turn over its citizens to the United States when they are accused of crimes here.
Wanzeler, 45, is believed to have left his home in Northborough for Brazil by way of Canada, according to officials briefed on his disappearance. He had nearly four weeks to go missing, from the time federal agents raided TelexFree's Marlborough office in April until last Friday, when Department of Homeland Security investigators arrested Wanzeler's business partner, James Merrill, on Route 9 in Worcester.
Wanzeler and Merrill, 53, were both charged Friday with conspiracy to commit wire fraud. Their company, TelexFree, sold Internet phone-service plans but grew into a global, billion-dollar pyramid scheme, prosecutors alleged, by luring thousands of people around the world to invest in the company.
Merrill is in custody, with a detention hearing scheduled for Friday in Worcester. But Wanzeler, who has dual US-Brazil citizenship, is a fugitive, according to the US Department of Justice. A warrant for Wanzeler's arrest was issued last Friday.
Wanzeler's lawyer, Paul Kelly, said Monday, "We are aware of recent legal developments and are evaluating the appropriate actions to be taken on behalf of Mr. Wanzeler."
If convicted, Merrill and Wanzeler could each face up to 20 years in prison. It's a long way from the 1990s, when the two men met as Wanzeler and his family sought work at Merrill's cleaning business. The pair went on to become business partners in commercial cleaning and then moved into a series of telecommunications businesses.
Last month, state and US securities regulators filed civil fraud charges against TelexFree and its principals, just days after the company sought federal bankruptcy protection. The Securities and Exchange Commission froze the assets of the company and its top people, after one executive during the raid tried to leave with $38 million in cashier's checks tucked in a bag.
Wanzeler's flight to Brazil is just the latest frustration for participants in the TelexFree system who have lost money.
"It looks bad on the authorities if they completely lost him and he went to a different country,'' said Katherine Aguilar, a 20-year-old Worcester student who had invested $2,000 in order to help pay for school. "It kind of makes you wonder, what are they doing? Don't they keep close eyes on these people?''
Brazil is not only Wanzeler's native home but the center, in many ways, of TelexFree's operation. A third partner who has not been charged in the case, Carlos Costa, lives in Brazil. And the company has targeted many Brazilian immigrants in its alleged scheme.
The Brazilian government has frozen about $350 million of TelexFree's funds, Wanzeler told investigators at the Massachusetts Securities Division, according to the US attorney's complaint against the company.
Records from the Brazilian Ministry of the Treasury show that TelexFree bank accounts in that country have received about $446 million in US dollars, according to the complaint. The ministry materials also showed that transfers were made from TelexFree bank accounts to Brazilian bank accounts belonging to Wanzeler, and from there to US accounts in Wanzeler's name.
Last week in federal court, lawyers for Wanzeler and Merrill asked to have some of their assets unfrozen in order to meet their living expenses. Wanzeler's lawyer, Kelly, also asked the judge to let him keep $3 million in a Singapore account rather than moving it back to the United States, arguing that the money was frozen so there was no need to move it.
However, Judge Nathaniel M. Gorton on Friday ruled that Wanzeler, Merrill, and their associates must repatriate any monies they have overseas that is related to TelexFree. He also ordered them not to open any new bank accounts or destroy any documents.
Source: Boston Globe