U.S. Patent Issued to ViSalus for NEURO Energy Drink Mix Formula
May 5, 2014
By Team Business For Home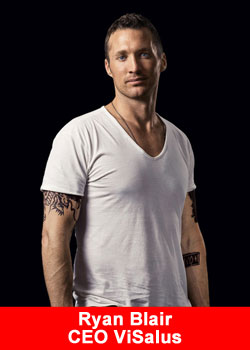 ViSalus, the company behind the #1 90-Day weight-loss and fitness platform in North America, announced today that it has been issued U.S. Patent No. 8,642,095 entitled, "Dietary Composition and Method of Using the Same" by the U.S. Patent and Trademark Office (USPTO) relating to the combination of ingredients in its ViSalus NEURO® energy drink mix product. The recently-issued patent is accessible on the USPTO's website at www.uspto.gov.
NEURO is a low-caffeine (45 mg) powdered energy drink mix that supports the body and brain with healthy energy. With a proprietary, and now, patented blend of beneficial active ingredients, NEURO provides three key benefits: mental alertness, mental acuity and physical energy. The result is a gentle lift that awakens your brain and invigorates your body. The nutritional benefits of NEURO are delivered with only 1 gram of sugar and 12 calories per serving.
"At ViSalus, we are dedicated to offering our customers high quality nutritional products and functional foods," said Silvia Uribe, Ph.D., Senior Vice President of Research & Development.
"This patent enhances our ability to protect the combination of ingredients in our NEURO energizing blend."
NEURO is portable, convenient and available in two great-tasting flavors, Raspberry Boost and Lemon Lift. ViSalus Co-Founder and CEO, Ryan Blair, stated, "NEURO doesn't use high levels of caffeine and sugar like many other energy drinks, which can often leave you feeling jittery. It gives you a gentle boost to keep you going throughout the day and can be used as part of any fitness and weight management Challenge."
For additional information call 1-877-ViSalus.
About ViSalus
ViSalus, Inc. is a healthy lifestyle company that is dedicated to Taking Weight Off the World.™ One person at a time. 10 lbs. at a time. Founded in 2005, ViSalus develops high-quality weight-management products and nutritional supplements that it markets and sells direct-to-consumers through an international sales force of independent promoters.
ViSalus markets its products in North America under the ViSalus® brand and in Europe under the Vi™ brand, through the Body by Vi Challenge®. ViSalus is headquartered in Los Angeles, California and Troy, Michigan and is majority-owned by Blyth, Inc. (NYSE: BTH). For more information about ViSalus, please visit vi.com and follow the Vi-Community on Facebook and Twitter.