Visi Introduces Rick Hagar, Chang Yu And Laura Jang As New Arctic Black Diamonds
May 15, 2014
By Team Business For Home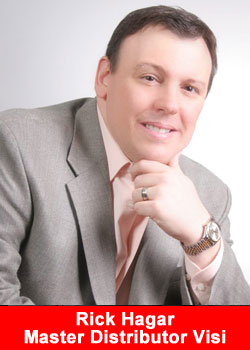 Vísi today announced that Master Partner Rick Hagar and the partnership of Chang Yu & Laura Jang had earned the rank of Arctic Black Diamond.
Vísi is coming off a record-breaking month in April with May trending to break records for the second month in a row, and the huge increase in sales is reflected in the company's rank advancements.
Rick Hagar, Chang Yu & Laura Jang are not only the first Arctic Black Diamonds in the company's history, but they also went straight to Arctic Black Diamond, jumping past ranks along the way with the tremendous volume they generated in their organizations. Rick Hagar made the incredible leap past Arctic Blue Diamond while Chang Yu & Laura Jang accomplished the remarkable feat of flying by Arctic Emerald, Arctic Diamond and Arctic Blue Diamond.
Both Partnerships capitalized on the momentum gained from Vísi's All Win Convention in March and the release of the Nufínna Lifestyle Smoothie, along with Vísi's approach to international expansion.
I am so happy for Rick, Chang & Laura, said Vísi Founder and CEO Kent Lewis. Rick is our Master Partner and has been instrumental in the growth and development of the company from the beginning. Chang & Laura have played a key role in both our domestic and international expansion. In order for both Partnerships to accomplish what they did they had to individually amass 750,000 in PETV (Personal Enrollment Team Volume) for 2 out of 4 consecutive weeks. That is an exceptional feat that deserves its reward. I have no doubt they will both enjoy spending the $100,000 bonus that is given to our Arctic Black Diamonds."
Vísi Master Partner and industry legend Rick Hagar knew Vísi offered a unique opportunity from the moment he sat down with Founder and CEO Kent Lewis and Co-Founder and COO Ryan Lewis. I've learned that success is very much about alignment, Hagar said. It's about certain variables lining up at the same time in the same place. Variables like corporate strength, a unique product story, a simple duplicable system, field leadership and timing. Nowhere have I seen these variables line up better than at Vísi. I am honored to be one of the first Arctic Black Diamonds with this great company.
Smart international expansion has been a key to Vísi's success as the company has seen growth in all its markets around the globe, and having the right leaders in place to expand into international markets has been crucial.
Chang Yu & Laura Jang are experienced and successful leaders, said Vísi Founder and CEO Kent Lewis. For a young, fast-growing company like Vísi it's important that we partner with hard-working leaders with high integrity like Chang & Laura. Their accomplishment of reaching Arctic Black Diamond is a testament to their leadership.
Chang Yu & Laura Jang cited the importance of being partners with Vísi and what that means for their business. We truly are Partners with Vísi, Chang Yu said. It's more than just a word; it's a reality. We have partnered with Vísi to build something special, and that partnership is helping us improve the lives of many around the world. To be able to work closely with a company to plan and collaborate on developing international expansion is unique. We are thrilled to be Partners with Vísi and excited to be Arctic Black Diamonds.
About Vísi
Vísi is a progressive global network marketing company that promotes personal development and improved lifestyles through the distribution of innovative products derived from Scandinavia's Arctic Cloudberry. Founded in 2012, Vísi produces seven all-natural products aimed to improve the health and lifestyles of people all over the world.
Vísi is driven by a network of Partners in over 18 international markets; including the United States, Canada and Japan. For more information, please visit www.iamvisi.com.