Zrii Exceeds $6 Million In Monthly Sales
May 7, 2014
By Team Business For Home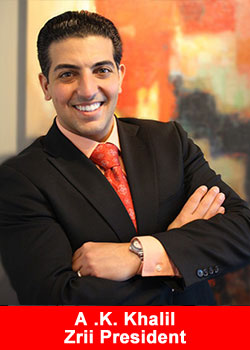 Zrii LLC today announced record sales of over $6.6 million in the month of April 2014, boasting growth of over 600% year over year.
The company expects growth to accelerate throughout 2014 and 2015 as Zrii rapidly expands into new countries around the globe and gears up for its biggest product introduction since the company's inception.
Fueling the growth has been an influx of top network marketing leaders and enthusiastic newcomers. They've responded to Zrii's commitment to clean eating and personal growth; an industry-leading compensation plan whose core of "4 weeks to 4-Star, iPad and a car" has taken the network marketing world by storm; and a globally recognized line of all-natural products for energy, weight loss and wellbeing endorsed by Dr. Deepak Chopra's Chopra Center for Wellbeing.
What also resonates with Zrii's rapidly expanding distributor and customer base is the company's message that you can fulfill your dreams and experience incredible success by doing something simple and meaningful: sharing clean eating with others. As people around the world are discovering, success is more than just a slogan at Zrii; it's a way of life.
Already one Independent Executive has joined the Zrii Million Dollar Club and three have joined the $500k Club. The company also boasts more than 20 Independent Executives who each earn anywhere from $30,000 to $140,000 each month.
In the network marketing industry, success drives expansion, and Zrii is the hottest ticket in town. With the incredible growth of the company Zrii is now opening offices all over the world including Colombia, Peru, Costa Rica and Mexico, with plans to open in additional countries around the world in 2014 and 2015.
The Best is Yet to Come: New Product Launch Planned for June 19th
"The past 15 months has truly been a magical time at Zrii as we establish ourselves as the number one health commitment company in the world," says Zrii President A. K. Khalil.
"Everywhere we go we empower people to take control of their health and give them the chance to experience incredible prosperity. And the best part is, we are just getting started!"
Adds CEO Bill Farley, "I am thrilled to announce that the most exciting product in the history of Zrii will be released on June 19th at our Latin America Leadership Academy in Guatemala.
We expect this product to fuel our remarkable growth in 2014 and beyond." This will mark the first time in the history of Zrii that the company has launched a product in Latin America first. "Doing so honors the profound impact that our Latin American leaders have had on our overall success," says Mr. Farley
A special preview video of the new product can be viewed by clicking here.
Zrii was founded in 2008 with the goal of enhancing the health and happiness of people around the world through clean, all-natural nutrition and wellness products. Zrii partners with the world-renowned Chopra Center for Wellbeing, headed by Dr. Deepak Chopra, to create ultra premium products that promote radiant total body health from the inside out.
Zrii products are sold through a network of Independent Executives throughout the United States, Canada, and Latin America.