After 25 Years, Legal Shields' Dave Savula Earns Lifetime Achievement Award
June 14, 2014
By Tina Williams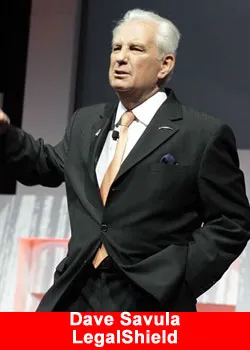 LegalShield, one of the nation's leading providers of legal safeguards for individuals, families and small businesses, honored Dave Savula for his remarkable career as a LegalShield associate with the first ever Dave Savula Lifetime Achievement Award at a special ceremony in Ada, Oklahoma last evening. Savula received the award after a nearly 25 year sales career with the company, during which he became LegalShield's first million dollar and multi-million dollar sales earner, as well as a leader in the multi-level marketing community.
Dave embodies what LegalShield associates should strive to be: hard working, persistent, dedicated, and of good moral character, said Rip Mason, the CEO of LegalShield. He has been integral to the success of the sales force and is a friend to many within the organization. With this award, we recognize and applaud his efforts to help provide legal safeguards to the masses.
Savula and his wife Beverly became LegalShield members in 1985 before becoming associates in 1992. They pioneered a sales approach that is used throughout the company today. Over the years, he has been instrumental in training new LegalShield associates and is a renowned public and motivational speaker. He is a Diamond 7 associate, which is the highest sales designation a LegalShield associate can receive.
I'm delighted to receive this award and honored that's it named after me, said Savula. I was fortunate enough to have a great partner throughout my sales career and couldn't have done it without the support of my wife Bev. We thank LegalShield for giving us the opportunity to sell this outstanding product for nearly 25 years.
The Dave Savula Lifetime Achievement award will be given at the discretion of LegalShield to honor associates and employees who embody LegalShield'score values and make an outstanding personal commitment to the organization.
About LegalShield
LegalShield is one of the nation's leading providers of legal safeguards for individuals, families and small businesses. LegalShield also offers one of the industry's most affordable identity theft plans. Members receive identity theft protection for the entire family for the cost most competitors charge to cover a single individual. LegalShield legal plans cover more than 1.4 million families and 3.7 million lives across North America. More than 34,000 companies offer the LegalShield plan to their employees as a voluntary benefit.
For as low as$20 per month, LegalShield members get access to attorneys who are experienced in the areas of law that most impact families and small businesses. Unlike other legal plans or do-it-yourself websites, LegalShield has dedicated law firms in 49 states and four provinces in Canada that members can call for help without having to worry about high hourly rates. The attorneys at these firms have an average of 19 years of experience in such areas as family matters, estate planning, financial and business issues, consumer protection, tax, real estate, benefits disputes and auto/driving issues. In 2013 alone, LegalShield firms received more than 1.8 million calls from members.