Avon Elects New Board Member, Helen McCluskey
June 12, 2014
By Tina Williams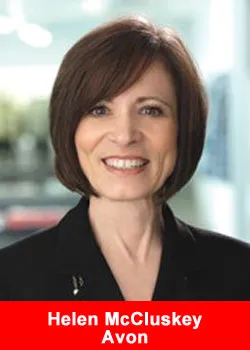 Avon Products, Inc. (AVP) today announced that its Board of Directors has elected Helen McCluskey to the Board, effective July 1, 2014. Ms. McCluskey's election increases Avon's Board to 11 Directors.
Most recently, Ms. McCluskey, age 59, was the President and Chief Executive Officer of Warnaco Group, Inc. and a member of the Warnaco Board of Directors from February 1, 2012 through February 13, 2013. Upon the acquisition of Warnaco by PVH Corp. in February 2013, Ms. McCluskey joined the Board of Directors of PVH. Her tenure at PVH ends on June 19. In her role at Warnaco, she focused on the company's brand portfolio, strategic direction and the execution of its long-term growth plan.
Helen has a valuable blend of branding, marketing and international experience, said Doug Conant, Chairman of Avon's Board of Directors. Having led a public company previously, she brings a wealth of knowledge to Avon's Board and we are excited to welcome her.
I am very pleased to be joining the Avon Board, said Ms. McCluskey. I'm confident in the company's leadership and am excited to join them on the journey to return Avon to profitable growth.
I'm delighted that Helen is joining the Avon Board, said Sheri McCoy, Avon's Chief Executive Officer. She has an incredibly strong background in women's brands globally and rich merchandising expertise. I know she will contribute valuable insight as a Director.
Ms. McCluskey joined Warnaco in 2004, where she served as Group President, Intimate Apparel. In June 2007, she also assumed global responsibility for Warnaco's swimwear brands. In 2010, she was named Chief Operating Officer, adding to her responsibilities oversight of the Calvin Klein Jeans brand, as well as all of Warnaco's international business and the global supply chain and sourcing operations. She expanded the Calvin Klein Underwear business, doubling revenue in a four-year period, and was instrumental in key product launches, including Calvin Klein Steel, Calvin Klein X and ckone. In 2012, she was named President and CEO of the company.
Prior to joining Warnaco, Ms. McCluskey served as Group President of the Moderate Women's Sportswear division and President of Special Markets for Liz Claiborne Corporation from 2001 through 2004. Previously, she spent 18 years in Sara Lee Corporation's intimate apparel units, where she held executive positions in marketing, operations and general management, including President of Playtex Apparel from 1999 to 2001. She began her career at Firestone Tire & Rubber Company. She is a director of Signet Jewelers Limited.
Ms. McCluskey attended the University of Pittsburgh, where she graduated with a B.S., Mathematics in 1976.
About Avon
Avon, the company for women, is a leading global beauty company, with $10 billion in annual revenue. As one of the world's largest direct sellers, Avon is sold through more than 6 million active independent Avon Sales Representatives. Avon products are available in over 100 countries, and the product line includes color cosmetics, skincare, fragrance, and fashion and home products, featuring such well-recognized brand names as Avon Color, ANEW, Skin-So-Soft, Advance Techniques, and mark.