Avon Philippines President Sees True Filipino Spirit
June 16, 2014
By Team Business For Home
Six months after Super Typhoon Yolanda wreaked havoc on lives and property in Eastern Visayas, Julie Tatarczuk, president and general manager of Avon Philippines, has made an emotional journey back to the city of Tacloban—her heart still full of anticipation for what she would come across along the way, but no less replete with hope and confidence that life in this city is moving forward.
Tatarczuk's positive expectations were buoyed up by her own experience with Tacloban-based Avon representatives. Their branch, as well as with outlets in Ormoc and Naval, was among the worst hit by the typhoon.
But exactly 31 days after the strongest typhoon in recorded history hit and ravaged the region, Avon Tacloban had made a bold move to reopen, notwithstanding the mayhem and the indescribable destruction around. It was their way of telling people that life should go on ASAP.
In the thick of rubble and ruins of the city, Tatarczuk made her way to Tacloban last December to throw her full support to the decision of Avon representatives to reopen, even as most businesses were closed and other sources of livelihood were put on hold. Looting was also rampant, and nothing was sacred at that point.
"Only a few days after the typhoon had hit, the Tacloban reps were already asking when they could reopen. At that time, there was a clamor for personal hygiene necessities like deodorants, body wash, lotion, as well as undergarments, and basic cosmetics such as lipstick and eyeliners, and our reps felt they needed to help too by supplying people with these items," Tatarczuk recalls.
Avon Philippines has been strong on the personal hygiene items area, selling per minute an average of 20 deodorants, 13 hand and body lotions under the Skin So Soft label, 25 bras and 29 pairs of panties. It also sells 19 lipsticks per minute.
Curiously, why would people in the midst of the worst disaster look for lipsticks and eyebrow pencils? "Para kahit nabagyuhan, maganda pa din sila, maganda ang pakiramdam nila. Para hindi mukhang nabagyuhan tignan! (So that even if the typhoon struck, they still feel and look beautiful)," cheerfully replied Rachel Lee Asis, an Avon sales leader.
It was almost unimaginable for Tatarczuk how Avon's Tacloban business could proceed. There was no electricity, there were no computers, no aircon. The stocks were on the floor, and not all the dealers had managed to make their presence felt. Of the 6,000 enlisted Avon representatives in the region, more than half were still unaccounted for. But Tatarczuk was just simply floored at how things moved so quickly toward the branch's recovery.
Finding out what Filipino spirit is Tatarczuk's tour of duty to head Avon Philippines started in September last year, at a most challenging time. A strong earthquake just rocked Bohol and Cebu in October, then came the Zamboanga siege—and then Yolanda.
"I was fully prepared to get into action, but I didn't realize it would be that quickly! I moved to Avon Philippines to add new energy and direction but that changed because there was something to do first," she quipped. Tatarczuk joined Avon in 2007, implementing marketing strategies for 42 countries in Continental Europe, Western Europe and North Africa. She became group vice president brand marketing, leading the marketing strategies and new product development for beauty brands, driving sales revenues of $8 billion, and overseeing the acquisition of the Liz Earle brand, which is now a subsidiary of Avon.
Emergency situations like this are nothing new to Tatarczuk, however. During the London bombing in 2005, she also found herself immersed in helping those affected by the tragedy. And it was during such circumstances that Tatarczuk realized the value of remaining calm and keeping personal emotions at bay.
"The challenge is to be clear-headed, to set aside emotions. When you have people like the Avon ladies who have dedicated their lives to growing the business, you will be determined to help them by hook or by crook. They have to feel the leadership," Tatarczuk adds.
Indeed, at the height of the confusion, Tatarczuk made it clear that people came first, and that every single Avon associate was located. Teams were also organized, one to respond to the needs that resulted from the disaster, and one to respond to business matters. The latter was responsible for getting the stocks needed to Tacloban, whether by land, or sea, or air despite the seeming absence of available transportation remedies at that time. The Avon office also served as home to about 20 families who sought refuge in the Avon building.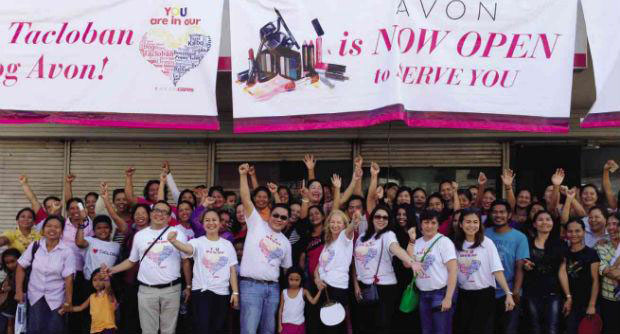 The Avon headquarters in New York also did its share in helping its Philippine offices. Tatarczuk confirms that the Philippines is one of the top 10 markets for Avon and this country is important, to say the least. Avon CEO Sheri McCoy had made it clear that the Philippines was a priority for them too at that time
"They were concentrating on providing us with the speediest approval for whatever we needed to donate, for the Avon sales associates, etc. E-mails and requests went directly to our regional offices and they would really wait for it so the approvals came immediately," Tatarczuk recalls.
The reopening of Avon Tacloban was thus seen as being significant in reviving sources of income and supporting the recovery of the company's representatives.
Other branches including Bogo, Passi, Borongan, Kalibo, Roxas, Sara and Danao were able to resume operations within two weeks after the Yolanda onslaught.
"I have always heard the term 'The Filipino Spirit' but I didn't know what it genuinely meant until I came here. These people are not victims, they are survivors. I am humbled and felt small, my job here had a purpose and I have seen it now," she states.
Moving forward
Meeting the Avon sales reps six months later, Tatarczuk became instantly emotional.
"The gift you give to me every day are your smiling faces, that you are rebuilding. You have my absolute commitment to help you as you go from strength to strength to strength because you deserve to be happy and live out your dreams, the way you keep moving forward," she says addressing the sales reps during the formal blessing of the refurbished Avon Tacloban offices.
Avon endorser Georgina Wilson joins Tatarczuk on this trip and is equally awed by the resilience of the ladies before her. "The is the first branch I have visited, and I am witnessing now how beauty really runs deep. It is a beauty that saves lives, I waited six months to come here and I am proud to be with the strongest people I have come to know," Wilson says.
Slowly but surely, the branch is picking up the pieces. The numbers say it all. Bon Escobar, Avon division manager for the Visayan region, reveals that Avon Tacloban's business share has even increased from .9 percent, to 1.2 percent.
"The devastation was incomprehensible so much but the 30-year-old branch in some ways is more alive," Escobar notes. "The amount of sales delivered equates with the number of dealers doing the selling. Life is going on, the homes are not yet finished because we have not received invitations yet to the blessings but the building in their hearts is already done. Di pa tapos ang laban, kapag wala na ang mga tents, that is the mark na tapos na. But we want to continue to inspire not only the region but the entire Philippines."
Tatarczuk says the inspiration radiates not only through the country but throughout the world. Even as Avon has been actively leading in worthy causes, particularly in the fight against breast cancer and domestic violence, nothing of this sort has been witnessed in the entirety of its operations all over the world. How Avon Philippines reacted well to disaster is now serving as a beacon of strength, and Tatarczuk says it just might have inspired a new commendable cause for Avon to take up worldwide.
Source: www.inquirer.net