BK Boreyko – CEO Vemma Awarded Gold Stevie For Executive Of The Year
June 18, 2014
By Team Business For Home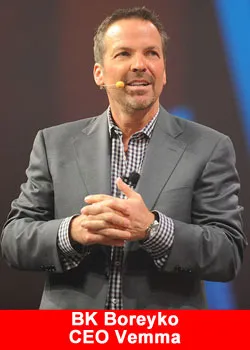 The American Business Awards named Vemma Nutrition Company's CEO and Founder BK Boreyko "Executive of the Year" in the Health Products and Services category Friday, June 13 at its 12th annual American Business Awards event in Chicago.
Known as the "Oscars" of the business world, the American Business Awards recognized BK Boreyko with its top honor, the Gold Stevie award. Past recipients of the prestigious award include the late Steve Jobs, CEO of Apple, Inc. (2010); Alan Mulally, President and CEO of Ford Motor Company (2011); Kent Muhtar, CEO of Coca-Cola (2012); and Reggie Aggarwal, Founder & CEO of Cvent Inc. (2013).
"I am extremely proud to be recognized as the Executive of the Year in the Health Products and Services category among so many prestigious finalists," said BK Boreyko.
Vemma was also presented with a Bronze Stevie award for the Verve Leadership Academy in the Internal Recognition/Motivation category.
Vemma EVP of Marketing and Brand Development, Mark Patterson commented, "It is a huge honor to receive these two Stevie awards and be recognized alongside other major U.S. brands. I want to congratulate BK on his win and am proud of the entire Vemma team for their outstanding efforts throughout the year."
Stevie award winners were selected by more than 240 executives worldwide who participated in the judging process this year.
"It's an honor for us to recognize and celebrate such an outstanding class of organizations and individuals," said Michael Gallagher, president and founder of the Stevie Awards. "The judges were especially discerning this year. All of this year's Gold, Silver and Bronze Stevie winners should be proud that the judges recognized their achievements and their ability to express those achievements in a way that captured the judges' hearts and imaginations."
The American Business Awards is the nation's premier business awards program. All organizations operating in the USA are eligible to submit nominations — public and private, for-profit and non-profit, large and small. Nicknamed the Stevies for the Greek word for "crowned," the trophies were presented to winners during a gala banquet on Friday, June 13 at the Fairmont Chicago Millennium Park Hotel. More than 400 nominees and their guests attended.
The 2014 American Business Awards will be presented at two awards events: Friday's banquet in Chicago, and at the new products & tech awards event on Friday, September 12 in San Francisco. Vemma was named a finalist in two award categories for the upcoming ceremony in September: Events App for the Vemma All In Convention App, and New Product or Service of the Year — Consumer Products for Vemma Renew™.
Details about the American Business Awards and the lists of Stevie winners who were announced on June 13 are available at www.StevieAwards.com/ABA.
About Vemma
Founded in 2004 by BK Boreyko, Vemma Nutrition Company is rapidly growing as one of the premier industry leaders specializing in premium liquid nutrition. Every week, thousands of new customers experience the positive difference of the clinically studied Vemma formula.
The Vemma brands include Verve, a healthy energy drink and Bod-e, a weight loss line. Vemma is headquartered in Tempe, Arizona, and distributes its products through a global network of Affiliates. For more information, please visit vemma.com.