Carlos Gonzalez and Limary Figueroa – ViSalus Hit National Director
June 11, 2014
By Team Business For Home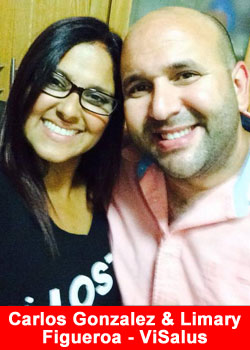 The recorded greeting on their voicemail machine sums up the positive attitude of Carlos Gonzalez and Limary Figueroa:
Hello, today is a great day to make a difference…
Having just achieved the Vi National Director rank and leading by example in the Latino community, that's exactly what this married couple is doing—improving people's life, health and prosperity. And that difference has been life-changing. Especially for Carlos, Limary, and their two sons.
Walk by Faith
Two years ago when Limary asked Carlos to attend a Challenge party with her, he told her 'no.' As a cancer survivor, she knew the importance of being healthy. Thinking this party could start him down a path to losing weight, Limary asked two more times.
Third time was a charm. It was there when Carlos learned about the entrepreneurial opportunity to promote The Challenge. He had no industry experience, but he did have something else: faith. Earlier, he had prayed for God to offer him a new way to grow. He saw Vi as the opportunity. And so he took it.
Although Limary was working for a multi-level marketing company, she also decided to walk by faith and left her job a few months later to join Vi. "I was able to work alongside my husband for the first time," she says. After teaming up with Carlos, Limary qualified for the Regional Director rank 29 days later, and they earned their BMW. Their team has been growing ever since.
Flip Flops for Africa
Carlos and Limary are steadily focused on bettering people's lives throughout the world. In fact, as part of a 12-day missions trip through the Orphan's Heart international childcare program, Limary brought shoes to the orphaned children in Africa.
"I went to Africa because I felt God wanting to break me down so He could build me back up," she says. "And He did. I found my 'Why' there. I realized we're all here to love and help others—not just ourselves. It's why I've decided to use the money from our ND check to buy flip flops to send to Africa. Also, when I achieve Vi's Ambassador rank, we'll use the earnings to open an orphanage in Africa. We feel so blessed that God is using us as a vessel to help others."
It's the ability to help children on their journey to healthier lifestyles that inspire Carlos and Limary. They have experienced the benefits… in their own family.
"Our 10-year-old son, Christopher, was struggling with his weight and was bullied at school," Limary says. "He cried every day. But then we helped put him on a healthier path, and he lost the excess weight. Life is so much brighter for him. Through PROJECT 10 Kids, we can help so many children (and families) who are going through what we went through. Now, Christopher shares his story at our Challenge parties. It's the heart of what we all do."
A Story of Hope
Carlos and Limary have a lot of reasons to be excited about their future. In addition to creating a thriving Vi family in Florida, they have already built a big team in Puerto Rico that is continually growing.
"We're thrilled to announce that one of our newest team members, Johanna Peña became a National Director—in only one month," says Limary. "Also, it's very encouraging to see that two of our local Promoters, Faith Pearson McKenize and Linda Curry, just earned their BMWs within their first month of joining forces with us."
Carlos and Limary know their purpose. Their mission is clear. Their results are inspiring. And their passion and perseverance are stronger than ever before.
"This business is completely aligned with our faith and enables us to transform others," says Carlos. "Our story is a story of hope and about not giving up. Never give up. Remember that it's not about you. It's about the people you can empower and help along the way."
*Achievement in weight loss depend upon many factors such as exercise, discipline and determination.
About ViSalus
ViSalus, Inc. is a healthy lifestyle company that is dedicated to Challenging the World… 10 lbs. at a Time. Founded in 2005, ViSalus develops high-quality weight-management products and nutritional supplements that it markets and sells direct-to-consumers through an international sales force of independent promoters.
ViSalus markets its products in North America under the ViSalus® brand and in Europe under the Vi™ brand, through the Body by Vi Challenge®. ViSalus is headquartered in Los Angeles, California and Troy, Michigan and is majority-owned by Blyth, Inc. (NYSE: BTH). For more information about ViSalus, please visit vi.com and follow the Vi-Community on Facebook and Twitter.