Dr. Vincent Giampapa – (Jeunesse Medical advisor) Nominated For Nobel Prize In Peace
June 20, 2014
By Team Business For Home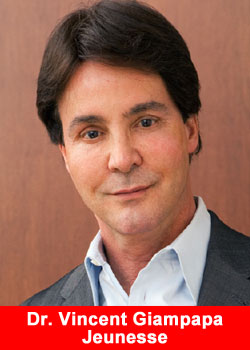 Medical advisor at Jeunesse is honored for his Stem Cell research.
Dr. Vincent Giampapa, medical advisor at Jeunesse, was recently nominated for a 2014 Nobel Prize in the area of Stem Cell Research. The Nobel Prize Nomination was given for the potential impact Dr. Giampapa's technology may have on the global aging epidemic as well as the financial impact of future health care in all countries with aging demographics, especially in the United States.
My work in Stem Cell Research has its origin in the new science of Epigenetics—that is, the ability to help cells work more optimally so that people age efficiently.
This is the same concept behind what was designed into the Jeunesse AM & PM Essentials formula. The use of a specific combination of naturally-occurring plant compounds creates a synergistic effect inside the 50 trillion cells that make up the body.
The result is something you can feel and see in just a very short time: like visibly younger looking skin as well as more energy to face daily challenges. Epigenetic research has facilitated amazing new products like AM & PM Essentials, and this recent Nobel Prize Nomination, for which I'm grateful.
Dr. Giampapa headed the development for AM & PM Essentials™, the first supplement designed to combat premature aging both day and night. Jeunesse's groundbreaking anti-aging supplement, it effectively delays the symptoms of aging and helps regulate mental focus and restful sleep.
Originally presented by Dr. Giampapa in Rome at the Vatican Stem For Life meeting in April 2013 and then again in Stockholm at the Swedish American Life Science Summit, Giampapa's research has documented in-vitro approaches that can make cellular restoration possible.
About Vincent Giampapa, M.D.
Vincent C. Giampapa, M.D., F.A.C.S. is a Board Certified Plastic Reconstructive Surgeon as well as an Assistant Clinical Professor of Plastic and Reconstructive Surgery at the University of Medicine and Dentistry of New Jersey. Dr. Giampapa is a pioneer in his field; he is one of the first Board Certified anti-aging physicians in the world and is internationally recognized as an innovator in surgical instrumentation.
He is also a founding member of the American Academy of Anti-Aging Medicine. Giampapa has been featured in a myriad of national magazines, radio, and television programs, including: CNN, WABC-TV, Fox News Channel, Geraldo, Joan Rivers, Phil Donahue, and Anderson Cooper. He currently serves as a medical spokesman and advisor for Jeunesse.
About Jeunesse
Jeunesse is a leading direct selling company devoted to encouraging its distributors to look and feel younger, earn more, and enjoy life. Company research focuses on adult stem cell technology, telomere support, DNA repair, and nutrigenomics. Products are made in the U.S.A. and are exclusively formulated for Jeunesse.
With a multi-lingual customer service, back office support team, global enrollment system, and in-house programming already in place, the company is fully operational in 22 offices around the world. Its distribution channels extend to over 90 countries. Jeunesse and the Jeunesse logo are registered trademarks of Jeunesse Global, LLC in the U.S. and/or other countries. For more information, please visit: www.jeunesseglobal.com.
Follow Jeunesse on Facebook or Twitter
https://www.facebook.com/TheScienceOfYouthfulAging
https://twitter.com/jeunesseglobal