Primerica Sales Force Up 5%
June 12, 2014
By Tina Williams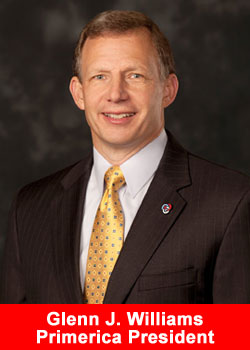 Rick Williams, Chairman and Co-CEO of Primerica, Inc. (PRI), says the company's sales force was up to about 95,400 representatives in the first quarter. He says that represents a 5% increase year over year.
"We've been growing. Recruiting was up 4%," Williams says. "The number of new representatives that we licensed was also up 4%. So we are having success in doing so."
Williams says the growth in Primerica's sales force is related to initiatives that were introduced in 2012. He says the company introduced a new compensation system that is oriented to helping representatives get licensed and become more productive earlier in their careers.
"We also are focused on sales force incentive programs," Williams says. "Our business is very much incentive-driven, where in order to qualify for trips and other incentives, getting people licensed and productive is a core component."
About Primerica, Inc.
Primerica, Inc., headquartered in Duluth, GA, is a leading distributor of financial products to middle income households in North America. Primerica representatives educate their Main Street clients about how to better prepare for a more secure financial future by assessing their needs and providing appropriate solutions through term life insurance, which we underwrite, and mutual funds, annuities and other financial products, which we distribute primarily on behalf of third parties.
In addition, Primerica provides an entrepreneurial full or part-time business opportunity for individuals seeking to earn income by distributing the company's financial products. We insured more than 4 million lives and have over 2 million client investment accounts at December 31, 2012. Primerica stock is included in the S&P MidCap 400 and the Russell 2000 stock indices and is traded on The New York Stock Exchange under the symbol "PRI".