Primerica's Promising Quarter Positively Effects Stocks
June 22, 2014
By Tina Williams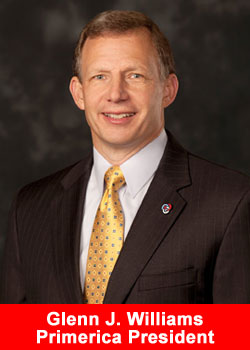 Primerica (NYSE:PRI)'s stock had its "outperform" rating reiterated by analysts at Raymond James in a research report issued to clients and investors on Thursday. They currently have a $55.00 price target on the stock, up from their previous price target of $50.00. Raymond James' target price points to a potential upside of 16.18% from the company's current price.
Shares of Primerica (NYSE:PRI) traded up 0.59% on Thursday, hitting $47.62. The stock had a trading volume of 83,071 shares. Primerica has a 1-year low of $36.42 and a 1-year high of $49.59. The stock's 50-day moving average is $45.46 and its 200-day moving average is $44.68. The company has a market cap of $2.591 billion and a price-to-earnings ratio of 15.84.
Primerica (NYSE:PRI) last posted its quarterly earnings results on Monday, May 5th. The company reported $0.77 EPS for the quarter, missing the Thomson Reuters consensus estimate of $0.82 by $0.05. The company had revenue of $324.30 million for the quarter, compared to the consensus estimate of $332.02 million. During the same quarter in the prior year, the company posted $0.65 earnings per share . The company's quarterly revenue was up 8.6% on a year-over-year basis. Analysts expect that Primerica will post $3.33 EPS for the current fiscal year.
Separately, analysts at Zacks downgraded shares of Primerica from an "outperform " rating to a "neutral" rating in a research note on Tuesday, April 15th. They now have a $52.30 price target on the stock. Two equities research analysts have rated the stock with a hold rating and two have assigned a buy rating to the company. Primerica has an average rating of "Buy" and a consensus price target of $49.06.
Primerica, Inc (NYSE:PRI) is a distributor of financial products to middle income households in the United States and Canada.