Talk Fusion Blue Diamond Yasuko Takakura Of Japan Overcomes With The Power Of Positivity
June 27, 2014
By Team Business For Home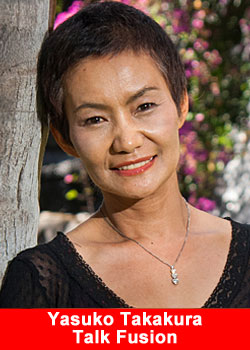 When it comes to life's unexpected challenges, Blue Diamond Yasuko Takakura of Japan is a shining example of triumph in the face of adversity.
When her husband passed away unexpectedly a few years ago, Yasuko was forced to take over his company, and the massive debt that came along with it. To live within her new means, she sold off nearly everything and moved into a one-bedroom apartment alongside her daughter.
She struggled for months until one day, when her friend Hitomi Shinzato approached her with a business opportunity from a company called Talk Fusion. Hitomi was experiencing newfound personal success as she shared the company's innovative video communication products and business opportunity around Japan.
"I didn't even have enough money to start," Yasuko said. "I borrowed from Hitomi. She believed in me and made it a point to teach me everything about the business. I owe so much of my success to her."
With Hitomi's help, Yasuko began sharing Talk Fusion with her family, friends and colleagues. Even as a relationship marketing newcomer, Yasuko began paving a real path to financial freedom while helping other women in situations much like her own to do the same. As her team grew, so did her optimism.
"I sincerely believed that these women deserved to be happy in all aspects of life—food, clothing, living and mind—and knew Talk Fusion was the vehicle to take us there."
Yasuko was achieving rapid success as an Associate, eventually climbing to the rank of Diamond Elite and reaching a newfound level of financial freedom. In May of 2013, everything suddenly changed.
"It was actually on my birthday; I was diagnosed with cancer," Yasuko said. "I couldn't believe it."
Now undergoing treatment, Yasuko remains incredibly optimistic as she overcomes her disease. She works her business with a newfound sense of purpose that recently helped her achieve the highly distinguished rank of Blue Diamond; she even earned a spot in Talk Fusion's summer 2014 Dream Getaway in Hawaii.
"I'm lucky to have cancer, as peculiar as that may sound, because both my parents and my husband died suddenly from a brain disease. It's given me such a deeper appreciation for my family, my time and my career here," Yasuko said. "Being positive is the best medicine and I'm so grateful to be part of something like Talk Fusion that helps me impart that positivity every day."
Income Disclaimer:
Any earnings portrayed in any Talk Fusion marketing materials are not necessarily representative of the income, if any, that a Talk Fusion Associate can or will earn through his or her participation in the Talk Fusion Instant Pay Compensation Plan. All references to income, implied or stated, throughout the Talk Fusion Instant Pay Compensation Plan are for illustrative purposes only. These figures should not be considered as guarantees or projections of your actual earnings or profits. Talk Fusion does NOT guarantee any level of income or earnings to any Associate; any representation or guarantee of earnings would be misleading. The purchase of a Talk Fusion Product Package is completely optional and is not required for an Associate to participate in the Talk Fusion Instant Pay Compensation Plan.