The Bill Ackman Contradiction
June 30, 2014
By Tina Williams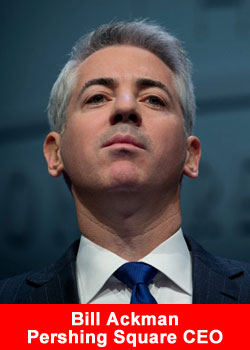 Over the last year I've been reporting on the battle between hedge-fund manager Bill Ackman and Herbalife. Bill Ackman has made very little, if any, progress in his attack. Each time he comes at Herbalife with something that looks potentially disastrous, Herbalife returns with further proof that Bill Ackman is wrong.
This has no longer become a matter of whether Herbalife is selling good products (the question has never come up once, strangely) or whether they have a good pay plan, or even what their training programs are like.
The main issue, for Bill Ackman, has always been that Herbalife is a pyramid scheme, focusing on only recruiting individuals to make money. The hypocrisy seems to elude individuals paying attention to the ongoing and unforgiving battle. Bill Ackman's only products offered by his own company is based on one result; money.
His sole job is to take money and turn it into more money. He's the CEO of Pershing Square Capital, a company that's only product is fiscal. Sure, he considers himself an 'activist investor' but that alone can seem like an oxymoron to many, especially those who could never afford the Harvard education he received and millions he himself invested to get where he is.
It would seem that an 'activist investor' would be an individual who would promote something like Herbalife, which requires very little start-up investment for the potential of such a high ROI. In speaking Bill Ackman's language, the risk versus reward in network marketing should be something he would promote, not condone. Unless, that is, he is trying to make money off of the backs of people trying to do just that.
Don't let Bill Ackman's speech on the poor individuals who don't make any money in Herbalife fool you. Bill Ackman makes more money than any single person in his company and will continue to do so. He is, literally, at the top of his own pyramid – befalling Herbalife for supposedly being a pyramid scheme.
He is the epitome of why Herbalife and other network marketing companies even exist. Because not everyone can do what Bill Ackman did. But they can get to where he is via a different route – a route that the every day average Joe can take. Perhaps the real activism that needs to be done is by the very individuals who have benefited so much from this industry.
The network marketing industry teaches something that Bill Ackman seems to have missed in his six-figure education. It's not all about the money.
This industry gives much more than that. Even the person who never made it to the six-figure mark in network marketing has been given a gift. A gift that says you don't need to be priveleged to live the lifestyle you want and more importantly, it doesn't matter what your background is or where you've come from or how much hardship you've experienced — it only matters that you can hope and dream again. It only matters that you can be what you've always dreamed you can be — something Bill Ackman seems so intent on stealing away from people.
Perhaps if Bill Ackman attended a convention and sat next to the individual he never would've batted an eyelash at before, to see their eyes light up with the joy one only sees in a child now-a-days, maybe then Bill Ackman will see what he's been missing. Perhaps he can bring that back to his own company and reap further rewards of helping others open their hearts and dream again. Maybe Bill Ackman can stop stealing dreams and learn how to be a real activist.
Written by: Tina Marie Williams, Freelance Journalist for Business for Home