Thirty-One Gifts Founder Replacing President
June 23, 2014
By Tina Williams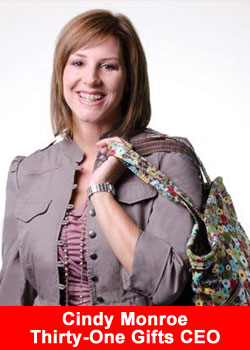 Thirty-One Gifts' Andy Neri will retire as president at the end of the month, and company founder and CEO Cindy Monroe will assume the role, the company announced yesterday.
Neri, 55, joined the Columbus-based direct seller of personalized gifts in 2010 as vice president of product, rising to chief operating officer and then to president in June 2012.
Before Neri was president, Monroe was president and CEO.
Thirty-One recently was named the fastest-growing woman-owned company in the world and the 17th largest direct-selling organization in the world by the Women Presidents' Organization. Thirty-One Gifts' revenue grew from $38 million in 2009 to $760 million in 2013.
Thirty-One Gifts, launched by CEO Cindy Monroe out of her basement in 2003, has quickly become a multimillion-dollar organization having over 86,000 consultants in the USA. The company is based out of Hixson, Tennessee and is is a member of the Direct Selling Association.
With a strong vision to celebrate, encourage, and reward hardworking women to success both in and outside the home; Cindy based her company's name, Thirty-One, on the Biblical verses in Proverbs 31 that praise a virtuous and wise woman.
Thirty-One offers many customizable products focused on making life easier. Whether it's style, organization, the perfect gift item, or a little bit of everything; they have it covered. From totes and purses you can wear while out and about, thermals to help transport food and drinks to a party, or organizational items to help keep your house neat and tidy