Top Industry Leader Efrain Sarmiento Joins Vemma
June 19, 2014
By Team Business For Home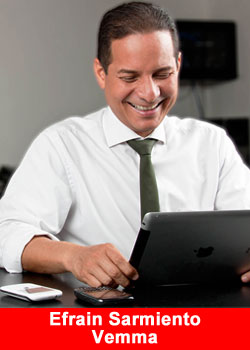 Vemma Nutrition Company is excited to announce that industry leader and top earner Efrain Sarmiento is one of the newest affiliates to join its growing company. Sarmiento is a network marketing professional who has built huge organizations in several companies focusing on Colombia, Mexico and South America.
Sarmiento commented, "Colombia is a country that is open to new opportunities. We are going to combine talent with a genuine and authentic company like Vemma, and we will achieve extraordinary results. Vemma will help our country improve our quality of life, in both health and economic terms.
Our vision is to help families live better lives. With Vemma's amazing products and one of the best pay plans I've seen, I believe it's a vehicle for anyone to make their dreams come true. We want to help thousands of families acquire financial freedom."
Sarmiento was attracted to Vemma because of the company's Young People Revolution (YPR) movement, which has sparked momentum for unprecedented growth and energy for the company and helped increase sales from $117 million to $221 million in 2013.
"Because of Vemma, the younger generation now has an alternative. With increasing student debt and the current world economy, Vemma simply makes sense.
I want to help young people become successful and provide servant leadership to the young people of our country," Sarmiento commented.
He went on to explain, "The products fit perfectly with this young demographic and I believe will explode here in Colombia. Teaming up with Cesar Lopez, one of the youngest and most successful Latinos and native Colombians; network marketing leader Marino Camacho; Maddie Morton, one of the youngest and most successful ladies in the company; and the 24-year-old Vemma millionaire Alex Morton, there's no way that we won't accomplish our goals and develop great results."*
Sarmiento feels this is not just the beginning of the Colombian Revolution, but the beginning of an entire Latino Revolution.
About Vemma
Founded in 2004 by BK Boreyko, Vemma Nutrition Company is rapidly growing as one of the premier industry leaders specializing in premium liquid nutrition. Every week, thousands of new customers experience the positive difference of the clinically studied Vemma formula. The Vemma brands include Verve, a healthy energy drink and Bod-e, a weight loss line. Vemma is headquartered in Tempe, Arizona, and distributes its products through a global network of Affiliates. For more information, please visit vemma.com.
*Your success is dependent on your efforts and leadership abilities. The Company has generally expected results, which can be obtained by visiting the Opportunity section of www.vemma.com