Zeek Rewards Receiver Sues MLM Attorney Kevin Grimes And Howard Kaplan For $100 Million
June 26, 2014
By Team Business For Home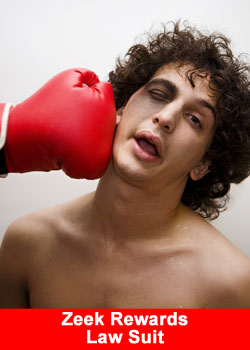 Kenneth Bell, the Zeek Rewards Receivership, filed a request for permission to file separate actions against two of Zeek Rewards attorneys, Kevin Grimes and Howard Kaplan.
The Zeek Receivership:
From January 2011 until August 2012, RVG operated a massive Ponzi and pyramid scheme through ZeekRewards, an internet based so-called "MLM" (multi-level marketing) program.
Kevin D. Grimes served as legal counsel to RVG from around January 2012 until August 2012, when RVG was placed into receivership.
By virtue of his knowledge of RVG and ZeekRewards and his legal expertise, Grimes knew or should have known that RVG was perpetrating an unlawful scheme which involved a pyramid scheme, an unregistered investment contract and/or a Ponzi scheme.
Despite this knowledge, Grimes actively encouraged investors to participate in the scheme by creating a so-called "compliance" program that provided a false façade of legality and legitimacy and knowingly allowed his name to be used to promote the scheme.
Grimes knew or should have known that insufficient income from the penny auction business was being made to pay the daily "profit share" promised by ZeekRewards.
Grimes knew or should have known that the money used to fund ZeekRewards' distributions to Affiliates came almost entirely from new participants rather than income from the Zeekler penny auctions.
Further, Grimes knew or should have known that the alleged "profit percentage" was nothing more than a number made up by Burks or one of the other Insiders.
Rather than reflecting the typical variances that might be expected in a company's profits, the alleged profits paid in ZeekRewards were remarkably consistent, falling nearly always between 1% and 2% on Monday through Thursday and between .5% and 1% on the weekends, Friday through Sunday.
With RVG's and Grimes' knowledge, Affiliates regularly and openly touted the consistent payments in their recruiting of new participants.
For example, one leading Affiliate's email footer said:
"It has been going like clockwork for over 220 days, 7 days per week."…. "EVERYONE. . .GETS. . .PAID. . .FIRST. . .DAY!" . . . This works every time with just one minute per day!
If you're not getting paid every single day for 1 minute of work, . . . [sic] why not?" . . . "100 percent of our active members are paid daily 100 percent of the time within their first 24 hours without any referrals."
This fake consistency should have, at a minimum, caused reasonably diligent legal counsel to inquire further about the validity of the alleged profits.
Indeed, the program publicly advertised historical average returns of 1.4% per day, which no legitimate investment could accomplish.
But, Grimes deliberately turned a blind eye to these incredible claims and chose not to seek further information.
It was or should have been obvious to Grimes that ZeekRewards succeeded because it promoted this lucrative "compensation plan," offering large amounts of passive income to entice individuals to participate in the scheme.
Grimes knew that participants in the ZeekRewards scheme invested money in the scheme expecting that they would receive profits from the Zeekler penny auction or other Zeek efforts.
Thus, Grimes knew or should have known that RVG, with his assistance, was promoting an unlawful unregistered security.
Finally, Grimes knew or should have known that the ZeekRewards compensation plan was paying Affiliates to recruit other Affiliates in an unlawful pyramid-style payment system.
The Matrix pyramid was initially a "2×21" matrix in which Affiliates made multi-level marketing commissions for 21 levels down in their "organization." Later, ZeekRewards used a "2×5 forced-fill matrix".
To get bonuses through the Matrix, Affiliates just had to (1) enroll in a monthly subscription plan requiring payments of $10, $50, or $99 per month; and (2) recruit at least two other "Preferred Customers" (i.e., investors who also enrolled in a monthly subscription plan).
Once qualified, Affiliates earned bonuses and commissions for every paid subscription within their "downline" pyramid, whether or not they
personally recruited everyone within the matrix.
Simply put, Grimes knew or should have known that affiliates were rewarded merely for recruiting new investors without regard to any efforts by the Affiliates to sell bids or products or otherwise materially support the Zeekler retail business.
Source: Behind MLM