Enfiniti Global Begins Nationwide Network Marketing Of Energy Products For Entrust Energy
July 31, 2014
By Tina Williams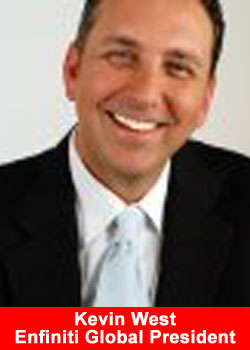 Enfiniti Global, Inc. began marketing energy products for Entrust Energy, the fastest-growing Retail Electricity Provider in ERCOT (Electric Reliability Council of Texas) and one of the Top 30 in the United States. In addition to marketing electricity in ERCOT, Enfiniti Global is selling electricity and natural gas in the Chicago area and natural gas in the PG&E market in Northern California. Enfiniti Global plans to launch electricity marketing in New York City within days.
Enfiniti Global's Compensation Plan for independent distributors features a No-Fee model to become and begin marketing as a distributor. "Our energy network marketing competitors in Texas charge between $299 and $429 to become a distributor. We charge $0, so we succeed when you succeed. Join without paying a fee, and you immediately have a personalized website for your energy marketing business," says Jason Borne, Vice President Sales & Marketing, Enfiniti Global.
Enfiniti Global also sells Enfiniti RECs (renewable energy certificates). On behalf of customers, Enfiniti procures, retires, and manages a customer's monthly commitment to alternative renewable energy. Each monthly certificate features exclusive renewable artwork elements from industry artist, William H. Miller.
Entrust Energy is a retail energy provider known for reliable customer service and competitive rates. "I'm extremely excited to have been a part of the growth of Entrust Energy. The exclusive partnership between us and Entrust Energy will provide the foundation to grow a network marketing company able to gather customers for Entrust Energy," says Kevin West, Enfiniti Global President.
"We're a different kind of network marketing company offering a change to the status quo in the industry. We invest in you before we ask you to invest in us, not the other way around like everybody else," says Kevin West.
About Entrust Energy
Entrust Energy is the fastest-growing retail energy provider in Texas. The Houston-based Retailer is now operating in over 21 U.S. Gas and Power markets and is in the Top 30 U.S. retail energy providers. The company is led by Tom Gilpin, President and CEO, who was previously the Chief Operating Officer of Australian Power & Gas, Australia's fastest growing company in 2010 and 2011.
About Enfiniti Global
Enfiniti Global is a fast-growth direct sales company based in Houston, Texas. Enfiniti Global is the exclusive network marketing company for Entrust Energy marketing electricity and natural gas in deregulated energy markets in addition to Enfiniti Renewable Energy Certificates nationwide. The company is led by Kevin West, President who was previously the Vice President, Sales & Marketing at Entrust Energy. West, an energy industry veteran, previously held positions at Shell, Williams, and Direct Energy.