Herbalife Q2 Earnings – $1.3 Billion Revenue + 7%
July 28, 2014
By Team Business For Home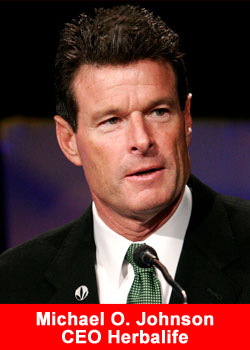 Herbalife Ltd. Announces Second Quarter 2014 Results and Raises 2014 Earnings Guidance
Second quarter worldwide volume growth of 5 percent compared to the prior year period.
Adjusted1 EPS of $1.55 increased 10 percent compared to the prior year. Reported EPS of $1.31 primarily reflects the impact of the non-cash costs associated with the convert and other items.
Raising FY'14 adjusted diluted EPS guidance to a range of $6.17 to $6.32.
Repurchased $581 million or 9.8 million shares during the quarter.
Herbalife Ltd. (NYSE: HLF) today reported second quarter net sales of $1.3 billion, reflecting an increase of 7 percent compared to the same time period in 2013 on volume point growth of 5 percent. Adjusted1 net income for the quarter of $141.4 million, or $1.55 per diluted share, compares to 2013 second quarter adjusted net income of $150.7 million, or $1.41 per diluted share. On a reported basis, second quarter 2014 net income of $119.5 million, or $1.31 per diluted share compares to $143.2 million, or $1.34 per diluted share for the same period in 2013.
Herbalife has once again delivered strong results in sales and profitability while demonstrating our continued ability to enhance our earnings per share, said Michael Johnson, Herbalife's chairman and CEO. Our performance is a testament to the enthusiasm our millions of consumers and members have for our products. Additionally, our independent members are successfully executing numerous growth strategies to further develop customer loyalty and encourage individuals across our network to lead healthier, nutritious lives. Our members are proud to be a part of a solution to global public health issues and we value the integral role they play in Herbalife's mission.
For the quarter ended June 30, 2014 the company generated cash flow from operations of $156.9 million; invested $39.6 million in capital expenditures; and repurchased $581.3 million in common shares outstanding under our share repurchase program.
Second Quarter 2014 Key Metrics2,3
Regional Volume Point and Average Active Sales Leader Metrics
Volume Points (Mil)
Average Active Sales Leaders
Region
2Q'14
Yr/Yr % Chg
2Q'14
Yr/Yr % Chg
North America
335.8
(1%)
75,772
5%
Asia Pacific
320.2
1%
74,916
6%
EMEA
218.8
22%
56,692
18%
Mexico
231.3
5%
64,656
3%
South & Central America
206.3
(7%)
62,172
14%
China
118.5
38%
18,703
33%
Worldwide Total
1,430.9
5%
340,644
9%
Updated 2014 Guidance
Forward guidance excludes the impact of expenses (primarily for legal and advisory services) relating to the company's response to information put into the marketplace by a short seller, which the company believes to be inaccurate and misleading, expenses related to a FTC inquiry, and the impact of non-cash interest costs associated with the company's Convertible Notes and the expenses incurred related to the effort to recover costs related to the reaudit that occurred last year. Forward guidance is based on the average daily exchange rates of the first two weeks of July. Included in the guidance is the use of the GAAP rate for Venezuela of 10.6 to 1 for the balance of the year and excludes the potential impact of future devaluation of the Venezuelan bolivar and future repatriation, if any, of existing cash balances in Venezuela.
Based on current business trends the company's third quarter fiscal 2014 and full year fiscal 2014 guidance is provided below.
Three Months Ending
Twelve Months Ending

September 30, 2014

December 31, 2014

Low

High

Low

High

Volume Point Growth vs 2013
5.5%
7.5%
6.0%
8.0%
Net Sales Growth vs 2013
9.0%
11.0%
8.5%
10.5%
Diluted EPS as adjusted
$1.49
$1.53
$6.17
$6.32
Cap Ex ($ millions)
$45.0
$55.0
$175.0
$195.0
Effective Tax Rate
27.0%
29.0%
27.5%
29.5%
Share Repurchase Program Update
During the second quarter, the company repurchased 9.8 million shares at an average cost of $59.41. There is currently $232.9 million remaining on the existing $1.5 billion share repurchase authorization.
Second Quarter 2014 Earnings Conference Call
Herbalife senior management will host an investor conference call to discuss its recent financial results and provide an update on current business trends on Tuesday, July 29, 2014 at 8 a.m. PT (11 a.m. ET).
The dial-in number for this conference call for domestic callers is (877) 317-1296 and (706) 634-5671 for international callers (conference ID 66932104). Live audio of the conference call will be simultaneously webcast in the investor relations section of the company's website at https://ir.herbalife.com.
An audio replay will be available following the completion of the conference call in MP3 format or by dialing (855) 859-2056 for domestic callers or (404) 537-3406 for international callers (conference ID 66932104). The webcast of the teleconference will be archived and available on Herbalife's website.
About Herbalife Ltd.
Herbalife Ltd. (NYSE:HLF) is a global nutrition company that sells weight-management, nutrition, and personal care products intended to support a healthy lifestyle. Herbalife products are sold in more than 90 countries through and to a network of independent members. The company supports the Herbalife Family Foundation and its Casa Herbalife program to help bring good nutrition to children. Herbalife's website contains a significant amount of information about Herbalife, including financial and other information for investors at https://ir.Herbalife.com. The company encourages investors to visit its website from time to time, as information is updated and new information is posted.