It Works! Global Opens $10 Million HQ – Sales Revenue Up To $456 Million
July 1, 2014
By Team Business For Home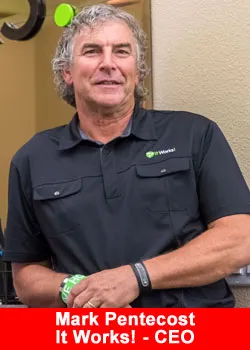 A former multi-story retail center on the bank of the Manatee River has a new life as the headquarters for a health and beauty company that is projecting $1 billion in annual sales.
It Works! Global, a direct marketer of health supplements, skin care products and body shaping aids, debuted its $10 million headquarters building in a public grand opening. The company remodeled the former Riverside Plaza on Riverside Dr., converting the former mall space into an airy, 50,000-square-foot creative business space.
The company, founded in Michigan in 2001, moved to Bradenton in 2011.
It Works! leased offices on State Road 64, but began looking for more space when the company's growth called for a larger headquarters. It bought the Riverside Plaza building in December 2012 for $3.125 million. It Works! employees started moving from the old building in May.
I thought that building would last us at least 10 years, said It Works! CEO Mark Pentecost during a ribbon-cutting ceremony. We've been going through tremendous growth.
It Works! currently employs 86 people full time. The new headquarters, which is designed to accommodate up to 150 employees, is the center of a business that sells its products through 90,000 independent distributors in 18 countries. The company sold $27 million in products in 2010. Sales grew to $456 million last year, according to the company.
Bringing It Works! to Palmetto was a priority for city government. Mayor Shirley Groover-Bryant said It Works! will boost future development in the city's gateway and harbor district, and will support existing restaurants, gas stations and other services.
It was important that the building was filled, she said. That would have been a huge void in that area.
Palmetto's Central Redevelopment Agency will pay It Works! $610,000 in incentive money over the next 10 years in connection with the remodeling project. It Works! also is qualified for $180,000 in county incentive money that is tied to hiring.
This week's grand opening event drew about 100 people for tours of the new building. It Works! started with a 34,000-square-foot, four-story structure, but added a fifth floor and about 16,000 new square feet. Palmetto architecture firm Moore 2 Design drafted a floor plan that removed many interior walls, opening up large office landscapes on the first three occupied stories of the building. Private offices and conference rooms are located in perimeter spaces, most enclosed with glass.
The new fifth floor is an entertaining area that can host gatherings and meetings. The floor also boasts a rooftop deck that comes with a garden, fire pit and putting green.
Whimsical touches in the building include a curved slide that runs from the second floor of offices to the reception lobby, wraparound decks on each floor and a secret room hidden behind a book case in Pentecost's office. Each floor of office space has its own cafe area, each complete with a Keurig machine and free K-Cups.
Parking takes up the entire first floor of the building.
Pentecost has other business and real estate interests in Manatee County. He purchased the Stoneybrook Golf Course in East Manatee in 2010 for $3.475 million. He also owns and operates a 1,000-acre ranch in Myakka City.
Source: www.bradenton.com