Jeunesse Expands To Africa
July 21, 2014
By Tina Williams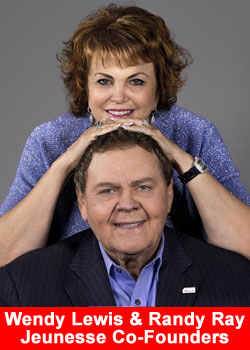 Jeunesse Global, a world leader in natural anti-aging skin care and nutritional supplements is expanding their global sales distribution throughout Africa, including Nigeria. Jeunesse, a United States based company, currently has sales operations in over 95 countries worldwide covering Europe, the Americas and Asia. Last month's global sales exceeding $40 million dollars.
In just over 4 years, Jeunesse has become one of the top direct sales companies in the world and is predicted by many to be a billion dollar company in the next few years. The timing to build a local, national and international business with Jeunesse is excellent due to the exploding anti-aging market expected to be $1 trillion dollars by 2025.
More and more people want to look and feel younger, as they get older. They want to age, youthfully and Jeunesse has a line of proprietary, clinically tested products that deliver real-world results. Because of the results people get with the products, Jeunesse distributors are making considerable incomes. Successful distributors are making 6 figure (U.S. dollars) annual incomes, while the very top distributors are making 7 figure annual incomes.
Jeunesse is formally launching their products and business opportunity in the Nigerian marketplace with a four city tour this month as part of their global expansion programme.
While in Nigeria, the Jeunesse corporate executives will speak on how to build a successful anti-aging business in Africa with their ground-breaking system of natural skin care and nutritional products. And how their Jeunesse Financial Rewards Plan is creating new millionaires around the globe in record time. Plus how Nigerians can qualify for Jeunesse's Africa Founders Club.