Minh & Julie Ho Celebrate Success With Brand New Lamborghini
July 30, 2014
By Nicole Dunkley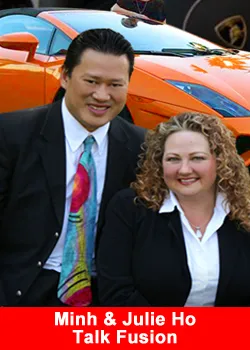 Coming back from crushing financial disaster to earning over $7 million in revenue, Presidential Blue Diamonds Minh and Julie Ho have passed another landmark: the purchase of their first Lamborghini.
Minh and Julie celebrated their banner year by adding an exotic Lamborghini Spyder convertible to their stable of luxury automobiles. Housed in the garage of their lavish 6,000 sq. ft., 5 bedroom Las Vegas dream home, the sports car is a symbol of the amazing success the couple has had with Talk Fusion.
"It's amazing to us that in less than 3 years we have accomplished what has taken some Leaders in this Industry 15 to 20 years to accomplish," said Julie Ho.
"With the help and mentoring from our CEO Bob Reina, we learned and mastered leveraging. We knew the more people we helped achieve their dreams, the more our dreams would be fulfilled."
Before they became Associates, Talk Fusion had been an integral part of Minh and Julie's mortgage business. Minh would use Video Email to stay in touch with clients and build relationships with prospects. When the global recession hit and they lost everything, they chose to take advantage of Talk Fusion's popular Business Opportunity.
They quickly committed to Talk Fusion's simple system of success. By sharing the company's groundbreaking products and inviting others to do the same, Minh and Julie regained their financial footing through Talk Fusion's Instant Pay Compensation Plan.
"We have encountered so many people who have experienced what we went through – or worse," said Minh. "It feels so good to show these people that there is another way to build a steady financial future outside the traditional job market."
Now every day is a new adventure for Minh and Julie as they live in luxury while travelling the globe and sharing their inspirational story. It's a lifestyle they never would've imagined before Talk Fusion, but it's one that's now very real thanks to this life-changing opportunity.
"All I can say is two words," said Minh. "'It works'."
Source:Talk Fusion