Nu Skin Celebrates 30 Years
July 15, 2014
By Tina Williams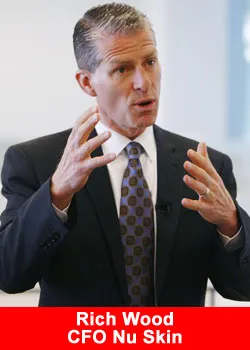 Nu Skin celebrated its 30th anniversary by inviting its employees and sales leaders to perform local service aimed at helping children in need. The anniversary month kicked off with the company's annual Force for Good Day and continued with 30-days of giving through June. With the aim of creating smiles for children in need, the Nu Skin family's local outreach efforts ranged from assembling thousands of education kits to reaching out to chronically ill children.
"At the heart of our business is our mission to be a force for good by empowering people to improve lives, so it seemed fitting to celebrate our 30th anniversary by coming together to be a force for good in our local communities," said Truman Hunt, president and chief executive officer. "As we look forward to the next 30 years, we are optimistic about our ability to continue to improve people's lives through our innovative products, rewarding business opportunities, and uplifting culture."
Global Projects
Nu Skin's global regions provided aid and support for children by improving health, education, economic opportunity and/or disaster relief in their local communities.
The Americas
· Canada: Nu Skin Canada hosted its 2nd annual Nu Skin Force for Good Butterfly Day at the Cambridge Butterfly Conservatory. Thirteen families, including 13 children with Epidermolysis Bullosa, participated in a scavenger hunt and made crafts to help DEBRA Canada raise awareness for EB and, of course, give them support and comfort. Employees also gave out 300 lunch bags to feed the homeless.
· United States: Nu Skin North America assembled educational kits for 30 Title I Schools, adding up to nearly 10,000 kits, 630 learning kits and more than 5,000 children's books
EMEA
· EMEA: At the EMEA headquarters in Belgium, employees and distributors purchased more than 3,000 meals for mothers and young children with financial difficulties.
· Northern Europe: Nu Skin Northern Europe hosted three events in Oslo, London and Copenhagen to fund 30 beds in a Romanian orphanage.
· Germany: Nu Skin Germany employees assisted in funding a benefit concert for cancer-stricken children. Employees and their families helped with registration and raised money to support the organization.
· Hungary: Nu Skin employees painted one of the most successful children's sport clubs. Budapest Honved Sport Club has produced 42 Olympic champions; however, the club does not have enough funds to renovate the property. Nu Skin employees purchased supplies and renovated the club for the hundreds of children who attend.
· Russia: Nu Skin Russia supported 300 children in Moscow boarding schools who have articulation and speech disorders. Employees served lunches, donated toys and sponsored sport competitions. Nu Skin Russia also cleaned and landscaped school grounds.
· South Africa: Employees partnered with Siyandlulisa, a ministry organization, to educate and feed street children. Employees donated toys, books, food and children's clothing to the community library.
Greater China
· Greater China: Employees volunteered to bring gifts and spend Children's Day with nearly 8,500 pupils attending the Fengxian Starlight Primary School and 15 NU Hope Schools. Also, Nu Skin Greater China recycled more than 20,000 empty bottles of Nu Skin product to improve environmental responsibility.
· Taiwan: Nu Skin Taiwan employees joined with the Eden Social Welfare Foundation to participate in activities that benefit Ai Di Conservation Center residents who have disabilities.
North Asia
· Japan: Nu Skin employees assembled 7,500 "Kits for Kids" and "Smile Libraries" for 39 elementary schools. Employees also donated books and bookshelves to elementary-aged children.
Southeast Asia and Pacific
· Pacific Region: Nu Skin Pacific Region's 30 employees donated 30 boxes of clothing to the Australian Red Cross as part of its Winter Appeal campaign.
· Indonesia: Nu Skin employees in Indonesia celebrated the recovery of families served by the Children's Heart Fund by taking children and their parents to Kidzania, an educational indoor theme park. The Children's Heart Fund provides funds for lifesaving corrective heart surgeries for underprivileged children suffering from congenital heart disease.
· Malaysia: Nu Skin Malaysia sponsored children for an educational to Aquaria KLCC, an aquarium that showcases animals and marine life from Malaysia and around the world. The tour was followed by lunch provided in a themed restaurant.
· Philippines: Nu Skin employees assembled back-to-school kits for children who are associated with the CHILD Foundation, a local heart fund organization. Students received new school supplies including a bag and lunch kit.
· Singapore: Nu Skin Singapore hosted movie screenings for 30 families with chronically ill children and assembled Nu Skin Smile Packs for pediatric cardiac patients.
· Vietnam: Nu Skin Vietnam donated school bags to children with heart disease and visited local hospitals to uplift chronically ill patients.
The Nu Skin Force for Good Foundation
The Nu Skin Force for Good Foundation, which Nu Skin chartered in 1998, has granted millions of dollars to offer hope for a life free from disease, illiteracy, and poverty to children in more than 50 countries. Nu Skin sales force, customer and employee donations, as well as 25 cents from the sale of each Nu Skin Epoch product, fund the Foundation. Nu Skin Enterprises covers all administrative and overhead costs, allowing for 100 percent of donations to be used for humanitarian and charitable causes. More information is available at https://www.forceforgood.org.
About Nu Skin Enterprises, Inc.
Nu Skin Enterprises, Inc. demonstrates its tradition of innovation through its comprehensive anti-aging product portfolio, independent business opportunity and corporate social responsibility initiatives. The company's scientific leadership in both skin care and nutrition has established Nu Skin as a premier anti-aging company. The company's anti-aging products feature the new ageLOC® line of products including the ageLOC® TR90™ weight management and body shaping system, ageLOC® R2nutritional supplement, and ageLOC® Transformation daily skin care system. A global direct selling company, Nu Skin operates in 53 markets worldwide and is traded on the New York Stock Exchange.