Rene Liaw – Global Wealth Trade Hits $100,000 Per Month
July 17, 2014
By Nicole Dunkley
Global Wealth Trade (GWT) Youngest Millionaire, Rene Liaw reaches $100,000/month income with less than 7,000 Luxury Consultants (distributors).
In a recent interview with Rene Liaw we asked him to share a few words with this monumental achievement.
I owe my life and success to the CEO, Visionary, and Founder of Global Wealth Trade (GWT) Mr. Ramin Mesgarlou.
For once in the world of direct selling/MLM, you have a company whose products literally can not be found in any other direct selling company, but more importantly, can not be found in any retail store, designer or luxury mall in the world!
And this is what makes the GWT opportunity a TRUE business opportunity that has longevity and stable residual income. It took me only 11 months to reach $20,000/month with less than a 1000 LCs in my team, this is UNREAL.
I than fired my boss at Telus and started promoting my GWT VDM FULL TIME. That was in 2009 and I have been earning serious six-figure incomes every year with my GWT VDM since.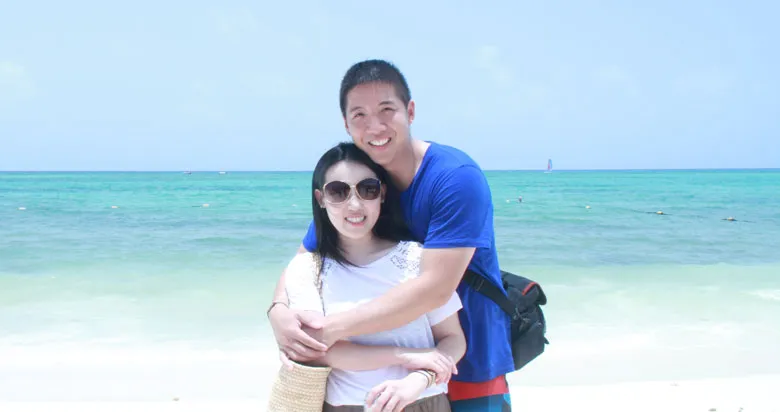 Ted: So VDM is some kind of web based mall marketing designer goods, Time pieces and jewelry correct?
That's right, we SHOW what we market and not TELL like others try to do because our products are visual.
VDM stands for "Virtual Designer Mall" and there are 5 types of VDMs starting from $169. VDM is an state of art, million dollar web mall loaded with tens of millions of dollars of the hottest designer goods and jewelry that are EXCLUSIVE only to GWT VDMs.
Ted: Over the years we keep hearing about FERI Fashion House and all its glamour and red carpet appeal. Please explain its advantages in the MLM business?
"When you design and manufacture products that no one in the world has in a thriving 1.2 trillion dollar fashion industry, you have an incredible long-term business. From the economical super fashionable POSH line starting from just $18 to the prestigious royalty brand in FERI MOSH that can go up to and beyond a million dollars, we market what people want, desire and DREAM about everyday.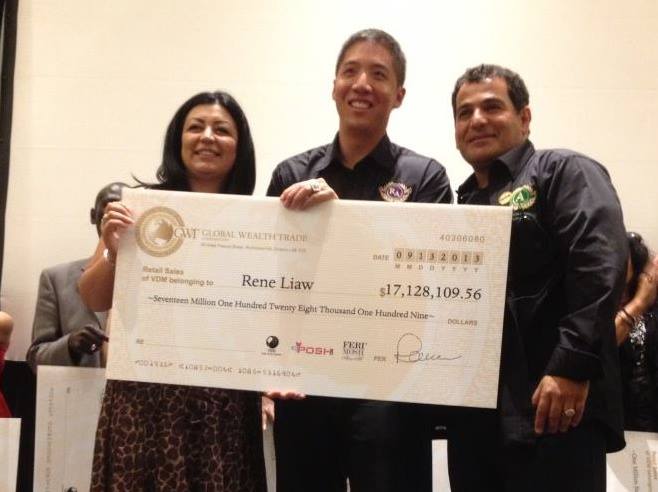 You can say we live and market dreams. Other companies' marketing strategy is create a problem (talk about diseases) to create interest for their products, this is a depressing conversation and a depressing business model. So while GWT Luxury Consultants live and market DREAMS, other companies market FEAR, you decide which one offers a better marketing lifestyle.
The bigger issue perhaps is SATURATION. MLM distributors today have it tough, real tough because if you are promoting another "consumable" product you are competing with thousands of companies and millions of distributors. Here at GWT, our Luxury Consultants don't have to go through the day to day issues and challenges that a typical direct seller/mlmer go through so the quality of life in GWT is quiet different!
https://www.youtube.com/watch?v=gkU-fQUqYnQ
Ted: So how did your income hit the magic 100K per month milestone with only 7,000 malls/distributors in your organization? They must be very active malls generating lots of sales?
"Ted, that's the key to the GWT business vs anything else out there, RETENTION and ACTIVITY. This is where we thrive in levels the industry has never seen or even can comprehend. In every performance stat whether distributor retention (renewals) to distributor activity (auto revenues) we top the DSA averages by a whopping 500 + percent.
This is responsible for our unprecedented E/D ratio (earning per distributor) so I don't need 150,000 users to make big money. Our Luxury Consultants are not different from any other part time industry distributors.
The difference is in our FREE FLOWING compensation plan that has no restrictions like RANKS and the revolutionizing VDM concept that promotes the most desirable designer goods and jewels in the industry.
With respects to hitting $100,000/month in income…what can I say, I am speechless. Before GWT I had tried hard with a reputable nutrition company and yet the biggest cheque I had seen was $1000/month. I than tried travel MLMs and that was even a bigger disaster than nutrition. Today we talk $100,000 in earnings in 30 days like it's just a number. How can one describe how that feels? But what is even more INCREDIBLE is that I achieved $100,000/month in income with just 7000 Luxury Consultants (distributors) in my organization. 7000 not 150,000 that it would take with any other company according to DSA averages.
Ted: Please elaborate on that for our readers Rene…
I know there are other six figure monthly earners in MLM but I challenge all of them to even come close to my E/D ratio. Why is this important? One of the first things our CEO thought me was not to get impressed by the guy who flashes big cheques on the stage unless you know how many people it took to get to those incomes.
When you talk to other leaders at my income level, they are always ready to brag about how they have 150,000 users in their teams to get to six figure monthly incomes. I did it with 7000 LCs, the industry has never seen outrageous numbers like GWT numbers in its history.
Number of users is even more important than the $100K/month because 7000 is very ATTAINABLE for the average person like me but 150,000 isn't and this is what has made GWT opportunity the GOLD standard in home business opportunities. I had one leader from another company tell me that, 7000 in 7 years is slow growth, I have over 75,000 distributors in my team. My response was short and sweet and pure mathematical.
You have 75,000 distributors and make $25,000/month
I have 7000 LCs and earn $100,000/month
I WIN … the fact is WHO CARES how big is your team. To me that means more casualties you are creating in your business because if it takes 75,000 to make your income, how many people in your team will realistically do that?
My favorite quote from our CEO is…
" I rather have 26,000 LCs with 52% retention than 260,000 distributors with 6% retention (DSA averages), GWT IS NOT ABOUT MASS ENTRY – MASS EXIT and leave behind 94% casualties. We have a real FREE FLOWING compensation plan that pays out 70 cents of every dollar in commissions.
We have real VISUAL, real UNIQUE and real VALUABLE products that people in every country want, desire, and dream about. Simply put where other companies try to create a NEED for the products they market, GWT products are WANT products that comes naturally in our day to day lives".
Ted: So the GWT business is not about recruiting lots of people, the VDM has very high retention and moves lots of products by itself?
Exactly Ted, and it also means that people in my organization don't require huge teams to make a solid residual income. In fact, most people can earn $3,000/month in residual income in their first half a year in the business. And I'm not including the bonuses or retail profits here, just the residual income!
My best week in income so far is just over $30,000 in income, again with less than 7000 LC's which is realistic and doable to build for the average LC. The feeling of making more in residual income in one week then most make in a year sounds like a dream but it's real here at GWT and the average person can attain it! That's basically almost 50 times the average weekly income for a middle class working person in Canada!!! INSANE stat and it's happening all over the world!
Ted: GWT is also very international probably because the goods and products you market in the VDM doesn't require government approval in any country.
That's correct Ted, the company already does business in 86 countries, which is probably, the fastest expanding Direct Sales Company selling tangible goods ever. I have FIVE FIGURE income earners in Africa, Canada & USA, some who launched their GWT VDM less than a year ago.
Ted: anything else you'd like to close with?
Yes, I have to mention this even though looking at my income it becomes irrelevant. GWT is all about fairness; everything about it is real, no smoke and mirror bonuses and incentives and no trick qualifications that trap you and hijack your commissions.
One of the biggest problems in MLM today is the so-called car "incentives". I put a quotation around incentive because they are not incentives at all, they are traps and completely destructive to distributors. To quote our CEO "companies in MLM don't offer car programs, they offer car "payment" programs and they are two different things".
That's what is so incredible about Global Wealth Trade's Luxury Car Club! The luxury car is literally PREPAID for 18 months and you can easily re-qualify for another 18 months. The re-qualification is easier then most other companies' monthly qualifications criteria!
So with GWT, you have no monthly qualifications to maintain, it's 100% STRESS FREE because the Luxury Car is PREPAID. A TRUE CAR INCENTIVE PROGRAM! That being said, aside from the incredible long-term residual income, with the GWT Luxury Car Club I now drive a $130,000 BMW M5 Executive Edition that I received for FREE.
Perhaps next time Ted I will tell your readers about the GWT Exotic Vacations that many of us qualified for. Much like everything else GWT does, this vacation is NOT another MLM vacation incentive. Imagine exclusive 6 STAR resorts that can't be found on Expedia with "Royal Service" with private butler and swim up suits etc, etc.
All in all I like to invite all the readers of this article to take a serious look at GWT starting with the videos we have included in this article because the timing is now! We have 25,000 LC's in 86 countries and we are creating millionaires every year… imagine when we have 50,000 LC's, or 100,000? It doesn't matter what country you are from, GWT is the most international turnkey business and you want to be part of this explosion!