TelexFree Co-Owner Asks Courts To Release $4M For Legal Costs
July 7, 2014
By Tina Williams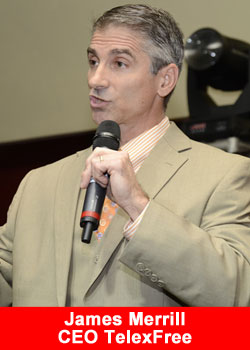 Facing steep costs to defend himself against a criminal fraud charge, TelexFREE co-owner James Merrill has asked a federal court to release more than $4 million of his money so he can pay his legal fees.
While the Ashland man's attorney's 8-page motion doesn't mention where that money came from, Merrill argues it's the responsibility of U.S. prosecutors to prove the funds are related to their charge against him, which stems from his alleged role atop what they say was an international pyramid scheme.
Certainly, the government is in no position to challenge the contention that extraordinary funds are necessary to defend the instant prosecution, Boston-based lawyer Robert Goldstein wrote in the Tuesday filing in U.S. District Court in Worcester. Indeed, at the original bail hearing, the government not only argued this was not 'a typical white-collar case,' but it proceeded to argue that it 'is probably the largest financial fraud being prosecuted in the United States currently…'
Merrill specifically identifies five accounts he hopes to draw from to fund his defense: two held in Merrill's name containing $79,684.28; two in Merrill's and his wife Kristin Merrill's names containing $4,090,085.97; and one in the name of his cleaning company, Cleaner Image Associates, containing $10,643. All of those accounts were frozen by the Securities and Exchange Commission after the commission filed civil charges against TelexFREE and Merrill in April.
U.S. District Court Judge Nathaniel Gorton last month allowed the release of six of Merrill's other accounts containing a combined $408,464 that also would have been subject to the freeze order. The accounts, which included college savings funds for Merrill's children, IRAs, and a 401k, were not considered by the SEC to be connected to TelexFREE, according to court filings.
Prosecutors from U.S. Attorney Carmen Ortiz's office had not filed a response to Merrill's latest request as of Wednesday afternoon. Brandy Donini-Melanson, a law enforcement coordinator in Ortiz's office, said they plan to oppose his motion before the July 14 deadline, but offered no further comment.
In an amended complaint against TelexFREE and its alleged higher-ups filed last month, the SEC claimed Merrill made more than $3.2 million from the company between September 2012 and December 2013, the largest recorded payment of which was deposited in a joint account belonging to Merrill and his wife on Dec. 27 last year.
The government has accused TelexFREE, which ran its U.S. business out of an office building on Cedar Hill Street in Marlborough, of raising more than $300 million the past two years via an unusually fast-growing multi-level marketing scheme.
In addition to being named in the SEC's civil case against the company, Merrill and fellow TelexFREE co-founder Carlos Wanzeler of Northborough were charged by the Justice Department in early May with conspiracy to commit wire fraud for their alleged role in the operation. Wanzeler is believed by federal investigators to have fled to Brazil