Top Industry Leader, Tim Baca, Joins LyfeStart
July 16, 2014
By Tina Williams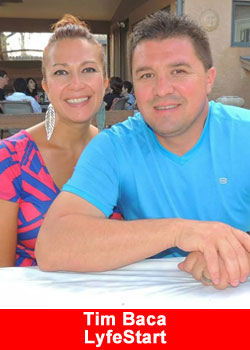 LyfeStart International welcomes Tim Baca as a LyfeStart Executive Advisor and Founding Member of The LyfeStart Advisory Board, The LAB.

Passionate about the importance of making a difference in the world, his career in direct sales is a natural extension of his former career as a broadcast journalist.

He says, "LyfeStart is founded on the idea of helping people. It's at the heart of everything we do, from the mission to end obesity and hunger to the opportunity for business and financial growth. Through LyfeStart, I can help more people achieve their goals. My wife Julie is reaching out to Millennials who are discovering the power of our mission, while starting their own
business at the same time. That's very exciting."

Baca cites the importance of LyfeStart's sound business fundamentals: "the quality and affordability of the products, their outreach to the Hispanic community, and the upcoming launch in Mexico are key," he says. "One of the first things I noticed was the Spanish on the U.S. product labels. A large part of my organization is in the southwest, so LyfeStart's bicultural appeal makes a big difference."

Baca enjoys the opportunity to help create the culture at LyfeStart. "It starts with the openness of the Founders, LyfeStart CEO Christopher Pair Garza, former CEO and President of Herbalife, and LyfeStart President of International John Purdy. They listen to the field and they innovate."

An example of this innovation is the new LyfeCenter in Albuquerque. "We led the general market in opening the first LyfeCenter in New Mexico," says Baca. "And this is just the beginning of not only a rapidly growing company, but a worldwide movement for change."

About LyfeStart
LyfeStart is the first socially conscious, global network marketing company committed to providing sustainable solutions to the dual crisis of global obesity and worldwide hunger. LyfeStart empowers people to create change in their lives, so they can improve their health, achieve their potential, and provide nourishment for a child in need. For every Nourish Nutritional Protein Shake the company sells, LyfeStart provides a meal for a hungry child.