Vemma's, Verve MoJoe, Named Beverage Industry's Reader's Choice
July 2, 2014
By Tina Williams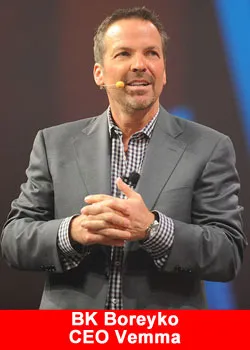 Vemma Nutrition Company's premium ready-to-drink iced coffee, Verve MoJoe™, has been named Beverage Industry's Reader's Choice for best new product in May. Verve MoJoe, Vemma's newest functional beverage in its already popular and healthy line of energy drinks, received 58% of bevindustry.com readers' votes, beating out numerous other beverages for the coveted spot.
The Vemma team is thrilled to be named the best product in May by the Beverage Industry following, said Mark Patterson, Vemma EVP of Marketing and Brand Development. We always strive to create outstanding products for our loyal customers, so for Verve MoJoe to be chosen by the customers themselves and be acknowledged by Beverage Industry is a tremendous honor.
Voting for the poll took place between June 4 and June 18 on bevindustry.com, where visitors were asked to vote for their favorite new product that was posted on the website between May 1 and May 30.
Verve MoJoe features natural sweeteners, flavors and colors and contains just 60 calories, 1.5 grams of fat, 6 grams of organic cane sugar, and 80 milligrams of natural caffeine per serving. The drink is formulated with vitamins and minerals as well as energy-enhancing nutrients from its Verve energy blend. Verve MoJoe features Arabica and Robusta coffee beans, non-dairy coconut cream, mangosteen, organic aloe vera, organic green tea, and 12 full-spectrum vitamins and essential plant-sourced minerals.
With the inclusion of the clinically studied Vemma formula, Verve MoJoe just might be the world's healthiest coffee drink.
About Vemma
Founded in 2004 by BK Boreyko, Vemma Nutrition Company is rapidly growing as one of the premier industry leaders specializing in premium liquid nutrition. Every week, thousands of new customers experience the positive difference of the clinically studied Vemma formula. The Vemma brands include Verve, a healthy energy drink and Bod-e, a weight loss line. Vemma is headquartered in Tempe, Arizona, and distributes its products through a global network of Affiliates.