Visalus UK: Dave Ives and Amanda Churcher Reach 250K Career Earnings
July 9, 2014
By Tina Williams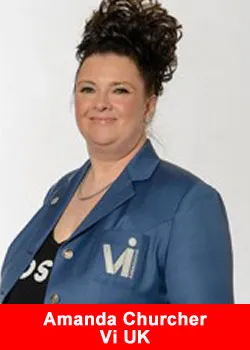 The past few months have been momentous for Visalus UK as two of its founding Promoters hit over $250,000 in personal earnings within their first year with Visalus.
To mark the milestone, 3-Star Ambassador Dave Ives—along with his partner Sarah-Jane Howe—and 2-Star Ambassador Amanda Churcher were awarded with Vi's exclusive $250,000 Earners Pendant.
Amanda had the honor of receiving her pendant from Vi Co-Founders Blake Mallen and Nick Sarnicola in front of hundreds of Promoters at May's London Regional Success Training.
They share what has been momentus for them thus far.
Dave Ives: From "Broke Sandwich man to six-figure-earning Shake man"
Dave dove headfirst into Vi in April 2013. Even with little experience in the market, he went on to become an Ambassador in his first week, bringing in 180 Promoters.
Now with a team of nearly 900 Promoters, 3-Star Ambassadors Dave and SJ have helped over 200 people on their team achieve a BMW, and have already helped three become Ambassadors. The two have developed the business together, combining their skills to create a unique partnership both professionally and personally.
With business in both Ireland and Germany, Dave and SJ are well placed to continue their growth and expand globally, as Visalus continues to launch new markets throughout Europe.
"What a difference a year has made, not only for my health but also financially," said Dave. Prior to Visalus, he was making well below the national average income. "I saw it as a lifeline for both my health and a way out of the hole I was in financially. So I grabbed it like my life depended on it," he said.
Today, Dave has regained control over his health and finances. "I went from one of the lowest points in my life, to having a clear direction toward securing my family's future and that of others around me," he explained. "Going from a 'Broke Sandwich man to a six-figure-earning Shake man' is what dreams are made of."
Amanda Churcher: From Party Planning Sales to Challenge Parties
Prior to joining Vi in April 2013, Amanda had a successful career in party planning sales. She leveraged that experience to maximize her Customer base, while drawing from her knowledge of home parties and using towards Challenge Parties.
Within just three weeks, Amanda became a Visalus Ambassador. Today, she has helped thousands of people embark on a healthier lifestyle, with 2,000 Customers and over 400 Promoters. Amanda has personally helped over 1,000 people get their Challenge Kits for free, and has more than 300 Rising Stars on her team.
"When I started this incredible journey, l could never have dreamt how it would change not only my life but also my family's life. Our health and wealth have improved dramatically. This life of Vi is Victorious, and I look forward to a lifelong partnership with this amazing company."