Youngevity Expands Charitable Giving Initiative
July 17, 2014
By Nicole Dunkley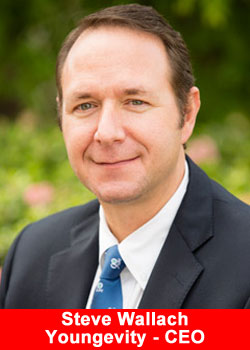 Youngevity International Inc. (OTCQX: YGYI) announces the expansion of its charitable giving program with the addition of My Story Matters to its list of causes and charities.
My Story Matters, a 501(c)(3) non-profit organization, creates storybooks which help lift a child's self-esteem, give individuals courage to face difficult situations, and/or tell stories that uplift and encourage individuals to be better.
The Foundation was established in September of 2013 by its parent company, Youngevity International, Inc., following Gandhi's inspiring words, You must Be the Change you wish to see in the world.
Lisa "Sunshine" Briskie, the Director of Youngevity Be the Change Foundation, who donates her time to the organization, said:
"Our family of distributors, customers, and employees come together as a family in many ways to provide help where it is needed. We are being the change in the many communities in which we live.
Whether through the purchase of a Be The Change Product (100% of the profits generated by the purchase of these products are donated directly to the Foundation), participating in a Random Act Of Kindness Day (R.A.K), getting involved in our running clubs to raise awareness for our charities, or coming to the aid of a community hit hard by tragedy, we are making a difference through our actions, not merely our words or pocketbooks."
Amy Chandler, Founder of My Story Matters stated, "We are overwhelmed with joy to be chosen as one of Youngevity Be the Change's charities. We are incredibly grateful to be a part of this foundation's mission as we feel our collective vision is completely aligned. My Story Matters is working tirelessly to make a difference in our community and around the world."
Steve Wallach, the CEO of Youngevity International, Inc., who sits on the board of directors of the foundation, said, "We have accomplished a great deal in a short period of time thanks to the generosity and commitment from of our distributors and customers. This would not be possible without the tireless work of Sunshine Briskie, our Foundation Director and the many donated hours of time by the team at Youngevity. We expect to have even a greater impact as Youngevity Be the Change moves into year two."
In just under a year the Youngevity Be the Change Foundation has donated over $22,000 in cash, provided product donations and boots on the ground to the Longmont Foundation to assist the Colorado flood victims, fed over 3100 families and provided boots on the ground in collaboration with the Philippines Red Cross to assist typhoon victims, donated cases of Rebound Energy drink to the San Diego Fire Department as they fought various forest fires, donated product to aid the Washington State flood victims, and provided a multitude of products to an entire unit of Pathfinders in Afghanistan.
About Youngevity International Inc.
Youngevity International Inc. is a fast-growing, innovative, multi-dimensional company that offers a wide range of consumer products and services, primarily through person-to-person selling relationships that comprise a network of networks. The Company also is a vertically-integrated producer of the finest coffees for the commercial, retail and direct sales channels. The Company was formed after the merger of Youngevity Essential Life Sciences and Javalution Coffee Company in the summer of 2011. The company was formerly known as AL International, Inc. and changed its name to Youngevity International Inc. in July 2013.