Ackman Says "My Bad" On Herbalife Presentation
August 1, 2014
By Tina Williams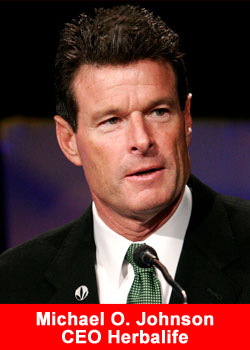 Hedge fund manager Bill Ackman has two words to sum up his Herbalife Ltd. (HLF) presentation last week: "My bad."
Investors may have missed the point because the event was long and overhyped, Ackman said in an interview. Even the private researcher who helped convince Ackman the company is an illegal pyramid scheme now says the details of a two-year investigation into Herbalife's nutrition clubs were largely ignored.
Ackman had promised to show an Enron-style fraud during the event. Instead of dumping the stock, investors sent the shares up 25 percent after the presentation, marking the biggest one-day gain in the history of the company. Ackman's firm, Pershing Square Capital Management LP, bet $1 billion against the stock in 2012.
"It was a PR failure," Ackman said. "I think we raised expectations. People were looking for the dead body and the smoking gun and instead what they got was a three-hour detailed regulatory presentation."
The shares declined 6.1 percent to $52.40 at the close in New York.
Lost amid the earlier share gain was research that offers evidence of an elaborate and secretive illegal recruiting system, said Christine Richard, a former journalist who helped Ackman present material at the New York event.
William Bill Ackman, founder and chief executive officer of Pershing Square Capital Management LP.
"It's certainly a disappointing reaction to what should be of interest to the market," Richard said in an interview. "The combination of the overhyping of the presentation and the length buried some of the material."
Nutrition Clubs
Nutrition clubs, a key part of Herbalife's direct-sales approach, lose $12,000 on average and swindle low-income consumers, Ackman said in the presentation. Herbalife denied the allegations, saying Ackman's claims were "completely false and fabricated."
Ackman has credited Richard with bringing Herbalife to his attention about three years ago while she was working with Indago Group, a New York-based boutique investigative research firm. They got to know each other earlier when Richard was a reporter. While in journalism, she worked for Dow Jones and then Bloomberg News. She later penned a book about his six-year campaign against credit insurer MBIA Inc. (MBI), which he also sold short. Richard has since started her own firm called Orion Research LLC and consults for Pershing Square.
'Conscripted Consumption'
Last week, Richard and Ackman said distributors at Herbalife clubs use false promises of riches and a fraudulent training program to force poor Latinos to buy weight-loss shakes one at a time. Programs such as Club 100 create a kind of "conscripted consumption" of its meal-replacement shakes, teas and aloe drinks, generating artificial demand, Richard said.
Richard alleges such programs are pervasive within Herbalife's 4,000 nutrition clubs in the U.S. and many more overseas, mostly in Latino neighborhoods and countries. Pershing Square's undercover investigators looked at 240 clubs, mostly in the U.S., as well as in Mexico and South America, according to a spokesman for the hedge fund.
Stopping the training programs would severely crimp sales, Richard said. Herbalife will eventually collapse under its own weight and should be shut by regulators now, Ackman has argued.
"It seemed like the presentation got so crushed by the stock-market response," said Richard, who issued a press release earlier this week standing by her research. "That sort of gave people permission to say, 'Ah, there must be nothing here because the stock market tells me so.'"
Club 100
Club 100 was created by a distributor in Mexico and adopted by others to train people who want to open clubs of their own, Herbalife President Des Walsh said in an interview last week after Ackman's presentation. Herbalife has since adopted some of the practices of Club 100 into its own training programs, Walsh said.
"The intent is that it's all about developing distributors before they begin to open up their club," Walsh said. "That's the point Ackman missed. This is actually a wonderful thing."
Ackman did succeed in at least one metric. Almost 12,000 people watched some portion of the live presentation, mostly by webcast. People have since watched the web recording another 42,000 times from 143 countries, including Iceland, Zambia and Japan. One person logged on from Nepal.
"We did accomplish our objective of getting people there," Ackman said.
When asked if he was advised on how to present the material last week, Ackman said, "I'm my own worst enemy."
The mea culpa signals Ackman isn't ready to concede, and Richard said there is no backing down.
ORiginally reported by Bloomberg