Ambit Energy Introduces Power Payback
August 5, 2014
By Tina Williams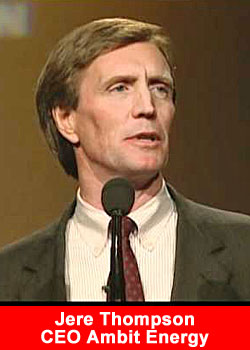 Ambit Energy, a leading national retail energy provider, is introducing its Power Payback program to reward Texas customers who reduce energy use during periods of extreme electricity demand. The program provides users with bill credit if they reduce their consumption during designated time periods.
"We've already rewarded our customers for making referrals with our Free Energy program," said Ambit Energy Co-Founder and CEO Jere Thompson, Jr. "It seemed like a logical next step to also pay them back when they help reduce the strain on the power grid during periods of extreme electricity demand."
Under the program, customers in Texas who have Smart Meters will receive advance notification of an impending period of extreme electricity demand. They then have the opportunity to cut back on their electricity use during the specified time. If their electricity usage during this time is lower than their average from the same time period over the previous five weekdays, they receive a bill credit of $1.00 for every kilowatt-hour saved.
"Power Payback is the easiest and most generous program of its kind in the Texas market," Thompson says. "In fact, with automatic enrollment, our customers don't even have to sign up. These simple savings come in the form of $1.00 per kilowatt-hour bill credit. And that's certainly a good incentive to adjust the thermostat a couple of degrees during peak demand times."