Brig Hart Goes Public As An Owner Of The Healthy Home Company
August 5, 2014
By Tina Williams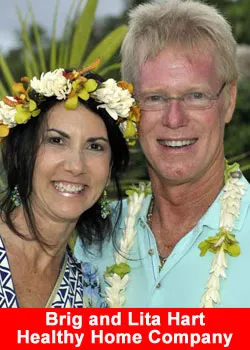 Brig Hart unveiled today that he is an owner of the Healthy Home Company. The Healthy Home Company launched in January 2014 with twelve products and after several acquisitions and joint ventures now has over 100 products made from organic, ToxicFree®, EcoCert and all-natural ingredients.
Brig and several partners are focused on pioneering a new space they call Direct Retailing, combining the best practices from one-to-one marketing with a membership buying club to offer premium quality products at retail competitive prices. This direct retailing approach has proven successful, as the company has broken two Diamond Executive ranked members in its first six months and brought over 20 couples to Belize in July, its first Gold incentive trip. Several dozen members have already achieved ranks from Bronze level through Ruby.
The Healthy Home model uses word of mouth advertising to compete directly with large organic grocery stores, vitamin shops, all-natural products companies and specialty online businesses. Healthy Home pays active members a 10% commission for referring others to join the club based on everything they purchase, and uniquely for as long as they purchase products.
Members who wish to upgrade their membership and become certified Healthy Home Professional Representatives can earn a part-time or full-time income by participating in a unique, semi-traditional relational marketing opportunity.
Brig Hart has over 30 years of experience in relational marketing. As an all-star player with his first company, Brig successfully recruited millions of people and produced billions in retail sales, making his mark in the industry's Hall of Fame.
In his next business, Brig not only replicated his previous recruitment and sales success, but also built a team that helped propel the company to become the fastest to reach $1 billion in sales, again making industry history. Brig has been a player, a team builder and now sits in the Owner's Box of The Healthy Home Company.
"Over the past several years I have had the unique privilege of being mentored by Brig into an industry I now strongly believe is the purest form of free enterprise ever created. Brig has made history in direct selling twice and this time being in the Owner's Box he is certain to make an even bigger impact on the industry," said Bill Glynn, CEO of the Healthy Home Company.
Brig is also introducing The Life Support System for Ultimate Success over the next several months. This teaching, training and education program has proven to be one of the most effective and successful mentoring and business building systems in the relational marketing industry. This mentoring system uses the principles that have made Brig so successful and helped him and his partners in the field break over 500 diamond-ranked professionals in his last business alone.
This online membership-based program is much different than what he has done in the past and includes certification programs for those willing to be mentored by Brig from basic training on through the most advanced education ever offered in the industry.
"My wife, Lita, and I feel blessed to be founders of the Healthy Home Company, a values-based organization that honors God, family, country and business. The Healthy Home Company is a safe haven for the millions of people who love relational marketing, as I do, where they can feel welcomed, appreciated and treated with the respect and honor they so deserve," said Brig Hart, owner and founder of The Healthy Home Company. "I am looking for the first 100 people that I can personally mentor that share the Healthy Home mission to make the home a healthier place to raise a family."
For more information, please visit www.TheNextBrigThing.com.
About The Healthy Home Company
The Healthy Home Company, formerly Mommy's Club, is a membership-based buying club that offers over 100 products in the personal care, household, skin care, makeup and health and wellness categories made with all-natural, Ecocert and ToxicFree® ingredients. The Healthy Home Company uses one-to-one, word of mouth advertising to sell its products and rewards its active members with a 10% commission based on what their referral members purchase for as long as those referrals purchase products. This "direct retailing" approach enables The Healthy Home Company to compete directly with all-natural and organic grocery stores, vitamin and supplement shops, online retailers and product companies (especially in the all-natural and organic products arena).
Healthy Home also offers its members the opportunity to apply and become certified to professionally represent the company in order to earn a potential part-time or full-time income. We serve as a trusted resource for information on toxin-free living and serve a community of like-minded individuals who want to make the home a healthier place to raise a family.