Cutco Expands To Brick & Mortar
August 7, 2014
By Tina Williams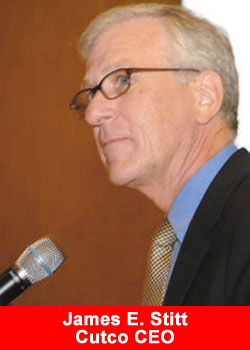 For decades, Cutco Cutlerysold knives to millions of Americans through a door-to-door business model, but in recent years, they've been expanding to brick-and-morter outlets in states across the country.
Last week, the first Texas store (and seventh nationwide) opened at 3201 Bee Caves Road.
The company chose to open a store in Central Texas because of the strong established customer base. (The company estimates that there are more than 100,000 Cutco customers in Austin.) The 1,000-square-foot store features stations where customers can try out the knives and other accessories and cutlery, and people who are already using the knives at home can bring them in to get sharpened at no cost.
In addition to kitchen tools, the store also sells garden tools, sporting knives and other products, including floor mats, candles and some food products.
About Cutco Cutlery Corporation and Vector Marketing
Cutco Cutlery is a 65-year-old company with headquarters and manufacturing facilities in Olean, New York. Vector Marketing is the company's sales division, coordinating all sales for Cutco Cutlery through a national network of college students who sell products through in-home personal demonstrations. More than 15 million US households have a Cutco product.