Epicure Launches Timesaving Solutions To Inspire People To Improve Health
August 13, 2014
By Nicole Dunkley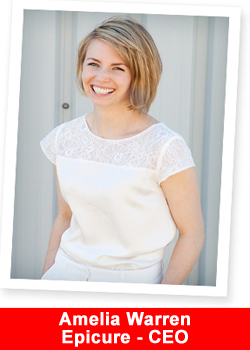 It's time to change the way the world thinks about food. To help busy people who want to improve their health, Epicure—Canada's largest direct sales company—has launched the Good Food. Real Fast.™ movement.
This transformative movement is about inspiring people to cook and eat real food, know where their food comes from and what's in it, and limit processed foods.
This movement is critical now, says Amelia Warren, CEO of Epicure. We want to dispel the myth that cooking is hard and time consuming. We want to show you how easy, quick and delicious healthy, real food can be.
Epicure's launch of the Good Food. Real Fast. movement provides true timesaving meal and cookware solutions that take a meal from raw to ready in mere minutes, Epicure hopes to change the way people think about what goes on their plates.
In keeping with the company's purpose to Inspire Good,™ for every person who joins the Good Food. Real Fast. movement, Epicure will donate $1 to the Epicure Foundation,™ a nonprofit organization that partners with other charitable organizations to enhance the lives of others through vital grassroots food initiatives.
About Epicure™
Founded in 1997 in Victoria, B.C., Epicure is a women-led company, committed to doing good by providing delicious and wholesome food, inspiring people to live more fulfilling lives, and giving back to Canadians and their communities.
President Sylvie Rochette started Epicure to address a genuine need for tasty, good-for-you mealtime solutions. By creating a greater love and understanding for the difference real food can make, Epicure products help people discover the delicious, convenient side of healthy.
Epicure follows a party-plan direct sales distribution model to share our evolving product line. Today, thousands of Independent Epicure Consultants across Canada share her "recipe for success" with their own home-based Epicure businesses.
SOURCE Epicure