Hedi Khezrzadeh – Lessons From ALS Ice Bucket Challenge For Network Marketers
August 28, 2014
By Tina Williams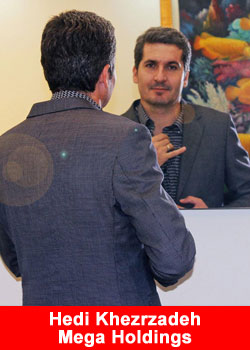 Hedi Khezrzadeh from the Middle east is Medical Doctor, Top Earner and Trainer in Network Marketing, is followed by 8,000+ Facebook fans, and shares the lessons that can be learned from the ALS Ice Bucket Challenge for Network Marketers.
Hedi:
It worked because it's Referral marketing, because you ask people who you have influenced to donate or to dump a bucket of ice water on their head.
Seth Godin says, The ideas that spread, win. ALS (Amyotrophic Lateral Sclerosis) is not the leading cause of death in the world, it's responsible for 2 out of 100,000 deaths every year and as many as 30,000 Americans have the disease at any given time. Malaria has been responsible for an estimated 627,000 deaths in 2012 and 207 million affected cases.

Bill Gates has been advocating the awareness for Malaria for many years and has many videos, but the #ICEBUCKETCHALLENGE has been more effective because the way the information is being spread has been remarkable.

Now people deal with an average priority illness as urgent because the way we have been spreading the idea has been nothing short of remarkable.
People want to be seen, they want to LEAD, they want to take part in a movement, they want to be different, that is why a lot of people try to do it different. Even Bill Gates and George W. Bush tried to be creative and different. Here is a simple example.
You should do it! Friends invited me and I have donated the money. You don't necessarily need to dump ice water on yourself. I believe, the most important thing is spreading awareness for the ALS campaign and helping them raise money.
Another lesson learned is that if you are not on Internet and Facebook, you are not in the game, you never will get viral hyper growth!
Not everyone is happy about the idea. Although the whole movement happens for a good cause, there are many who are concerned because of frivolous water consumption. Especially since many countries are now facing a water crisis and wasting 2 liters of water does not seem logical. However, if you make the comparison, 2 liters is not much when it takes 150 liters just to take a shower.
And last: Why I don't see Asia contribute to this challenge? USA, Europa and the Middle East have been involved. However, Malaysia, Japan, Korea, China, Indonesia, and Singapore have not yet joined the movement. Do they need different games/strategies/causes?

I don't know the answer to this.