Isagenix Hits 8th Year On Inc 5000 Fastest Growing Company List At 83% Growth
August 26, 2014
By Tina Williams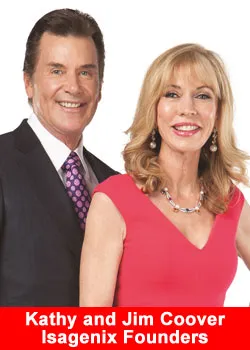 Isagenix has earned a spot on Inc. magazine's Top 5000 list as one of the fastest-growing companies in America—propelling its three-year growth by 83 percent and moving up in rank to 3,764—for the eighth year in a row.
For the past 33 years, the publication's Top 5000 list has given readers a deeper understanding of America's rapidly growing entrepreneurial landscape.
What's more, Isagenix was recognized as a Five-Time Inc. 5000 Honoree for being on the list for five consecutive years or more.
As an honoree, Isagenix joins entrepreneurial trend setters like Intuit, Zappos, Under Armour, Microsoft, Jamba Juice, Timberland, Clif Bar and Pandora. Additionally, new powerhouses like GoPro, Tough Mudder and Lending Club made this year's list.
"It's an absolute privilege to be recognized with such a distinguished award," says Jim Coover, Isagenix Co-Founder and President.

"We owe this all to our more than 400,000 Associates worldwide. Without them, we would not be able to fulfill our vision of impacting world health."
Established in 2002, the Chandler-based health and wellness company has exceeded $2.5 billion in cumulative sales thanks to their independent sales Associates located throughout the United States, Canada, Puerto Rico, Hong Kong, Taiwan, Australia, New Zealand, Mexico, Singapore, Malaysia and Colombia. As a result, Isagenix has created 121 Isagenix Millionaires, hundreds of six-figure income earners and led thousands of others to earn a residual income by distributing its products.
Complete results of the Inc. 5000 list, including company profiles and an interactive database, can be found on Inc.com/inc5000.
About Isagenix
Isagenix Solutions to Transform Lives, develops and manufactures systems for sustainable health habits, youthful vitality and skin care. Isagenix products are distributed through an independent network of Associates in the U.S., Canada, Puerto Rico, Hong Kong, Taiwan, Australia, New Zealand, Singapore and Mexico.
The company's vision is to impact world health and free people from physical and financial pain. Isagenix, established in 2002, is a privately-owned company with headquarters in Chandler, Ariz., and a member of Direct Selling Association.