Jeunesse', Wendy Lewis, Selected As One Of The Most Influential Women In Direct Selling
August 21, 2014
By Tina Williams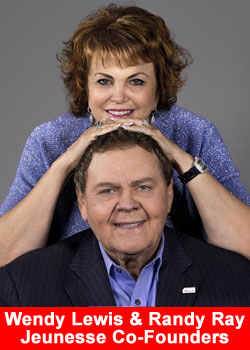 Wendy Lewis, COO of Jeunesse, was one of 21 women selected as the most influential women in direct-selling by Direct Selling News. DSN shared the news in their latest issue.
It is important to reflect on the past, in order to make the future better. It is especially important now since opportunity for women has become so much more widespread, and the daughters of this generation may struggle to even believe that their great-grandmothers couldn't vote or have options in the professional world.
It is in celebration of all the women who fight for opportunity—those in the past and those currently fighting—that we bring you this issue. We asked 21 of the most influential executive women in direct selling questions about their specific journeys, their motivations and inspirations, and their preferences for mentoring other women along the way.
The path each woman took to the heights of direct selling corporate management is as unique as the individual. Yet all 21 are inextricably linked by the influence they have on the lives of hundreds of thousands, even millions of women across the globe who work in direct sales to enrich their families, make a difference in their communities and in the lives of others, and reach for their own dreams.
Direct Selling News selected this group of women based upon their executive leadership roles in companies that achieved inclusion in the DSN Global 100 list and the $100M Club. It comprises women who help guide our industry through their leadership and vision. There are many women hard at work in far more companies than we've listed here. But by proudly honoring these 21, Direct Selling News salutes every female leader—corporate or field—who strives for more, respects those who blazed the trail, and reaches out to those on the way up.