LegalShield Elects New CEO, Jeff Bell
August 8, 2014
By Tina Williams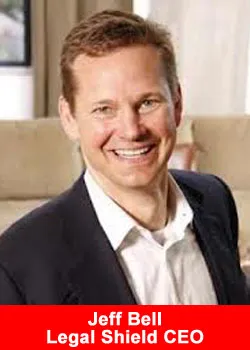 LegalShield, one of the nation's leading providers of affordable legal plans and identity theft solutions for individuals, families and small businesses, announced today that Jeff Bell has joined the company as Chief Executive Officer. Mr. Bell succeeds Rip Mason, who will now serve as Executive Chairman of the Board.
Mr. Bell comes to LegalShield with over 20 years of corporate leadership and consumer marketing experience for global brands including Microsoft, Chrysler, Ford and NBCUniversal. While serving as Corporate Vice President, Global Marketing, Interactive Entertainment Business (Xbox) for Microsoft Inc., Mr. Bellsaw tremendous success, leading the business to its first profitable year in its existence, and garnered industry recognition launching and marketing a number of successful video game franchises including Halo 3, Gears of War, Madden, and Rock Band.
In addition, he led the growth of Xbox LIVE from four million to 12 million members in two years. While serving as Vice President of the Chrysler and Jeep Divisions for DaimlerChrysler, he launched the Chrysler 300, and the 'Grab Life by the Horns' and Town & Country with Stow 'n Go seating and storage marketing campaigns.
In 2012, NBC Senior Vice President, Kim Niemi, called upon Mr. Bell, to lead NBCUniversal's marketing efforts in the health and fitness market. In this role, Mr. Bell developed the Challenge America campaign which enrolled over 300,000 members and became the theme for The Biggest Loser television show. In addition, Mr. Bell has been the recipient of Advertising Age's Interactive Marketer of the Year in 2005 and was named the Advertising Age Entertainment Marketer of the year in 2007.
Having Jeff join LegalShield is a great step forward for the company as we continue to raise awareness around the need for affordable legal protection, said Rip Mason, Executive Chairman of the Board for LegalShield. Jeff's ability to raise consumer awareness, and lead the industry's best sales and service team will allow LegalShield to address one of the most important challenges our society faces – ensuring affordable and quality legal counsel for every American.
In a LegalShieldJuly 2014 survey of more than 500 Americans, 30% of American adults reported facing an issue where legal services should have been enlisted but were not — this represents approximately 72 million adults who opted against hiring a lawyer, even when they recognized they should have. Additionally, nearly one-third of American adults (approximately 77 million) do not feel confident in their ability to know when a lawyer should be enlisted. Furthermore, nearly half (44%) believe hiring a lawyer is intimidating.

As the need for legal services continues to grow for millions of Americans, I am excited to lead the LegalShield family, its exceptional operational team and its stellar sales force to help it become the preeminent provider of pre-paid legal service plans in North America, said Jeff Bell, Chief Executive Officer of LegalShield. LegalShield started with a single founder whose vision for success rested heavily on its employees and the success of its sales force. It's a business about product and people and it's both exciting and exhilarating to be working in this vibrant new channel.
I'm committed to fostering a culture of collaboration and innovation amongst our internal team and associates, and providing them with the resources to achieve sustained success. LegalShieldhas a differentiated service model that offers our members the most far-reaching access to experienced legal counsel at an affordable price. We will look to seize upon this positioning within our sales channels.
About LegalShield
LegalShield is one of the nation's leading providers of legal safeguards for individuals, families and small businesses. LegalShield also offers one of the industry's most affordable identity theft plans. Members receive identity theft protection for the entire family for the cost most competitors charge to cover a single individual. LegalShield legal plans cover more than 1.4 million families and 3.7 million lives across North America. More than 34,000 companies offer the LegalShield plan to their employees as a voluntary benefit. For as low as$20 per month,
LegalShield members get access to attorneys who are experienced in the areas of law that most impact families and small businesses. Unlike other legal plans or do-it-yourself websites, LegalShield has dedicated law firms in 49 states and four provinces in Canada that members can call for help without having to worry about high hourly rates. The attorneys at these firms have an average of 19 years of experience in such areas as family matters, estate planning, financial and business issues, consumer protection, tax, real estate, benefits disputes and auto/driving issues. In 2013 alone, LegalShield firms received more than 1.8 million calls from members.