Market America To Unveil New Products At 2014 Convention
August 4, 2014
By Nicole Dunkley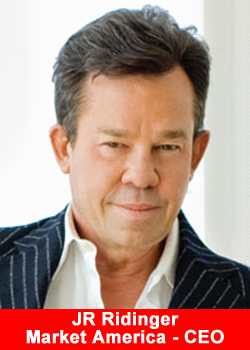 Over 20,000 entrepreneurs from around the world will descend upon North Carolina for the 2014 Market America | SHOP.COM International Convention at the Greensboro Coliseum on Aug. 7 – 10, 2014. The annual event will introduce new products, technology, programs and initiatives aimed at consumers converting their spending into earning, and also feature a who's who of celebrities.
The event will feature the Market America | SHOP.COM Executive Team, successful entrepreneurs and celebrity guests. Previous events have been attended by Jennifer Lopez, Alicia Keys, Serena Williams, Alejandro Sanz, Khloe Kardashian, Gloria and Emilio Estefan, Tony Romo, Swizz Beatz, Paulina Rubio and Marc Anthony, among many others.
At this event, Basketball Hall-of-Famer Scottie Pippen spotlight the impressive results of his Market America-branded product, Prime™ Joint Support by Isotonix®. Grammy-nominated rap artist and entrepreneur Joseph Fat Joe Cartagena, the company's President of Urban and Latino Development, will be on hand to relay the momentum and excitement within that market sector, which has seen explosive growth this year. More and more people are boarding the Market America | SHOP.COM 'Invisible Train' to entrepreneurial success. And at this event we are going to rev up the engines to a whole new level, says Cartagena.
Marley Coffee founder Rohan Marley will launch the brand relationship between his company and SHOP.COM, and Academy Award-winning actor Jamie Foxx will be in attendance in support of the company for the life-changing impact that Market America | SHOP.COM is having on entrepreneurs everywhere.
Several exciting new announcements will headline this year's event, including enhancements in mobile technology, the company's entry into the consumer packaged goods sector with the launch of SHOP.COM Groceries and new products for Motives®, TLS® Weight Loss Solution, Lumière de Vie®, Fixx™ Solution-Oriented Products and DNA Miracles™.
We are successfully combining e-retailing, social media and one-to-one marketing, which leads to a vast number of new opportunities, says President and CEO JR Ridinger.
At this event, we will reveal more ways that we are making it easier for consumers to convert spending into earning by searching for the best products at the best prices using our enhanced mobile technology, which makes shopping faster and more efficient than ever before.
Product line expansions for the award-winning Motives by Loren Ridinger cosmetics line, created by Market America | SHOP.COM Senior Vice President Loren Ridinger, will be unveiled. In addition, the new Motives Online Party will be launched, featuring simple, interactive tools on motivescosmetics.com that allow anyone to easily host a Motives Online Party, where everyone receives a 10% discount on all featured products and the host earns an additional 15% back in free product.
Motives will also spotlight the highly successful Instagram initiative launched a year ago that led to the creation of the Motives Mavens, a group of highly influential social media beauty experts. This initiative has propelled Motives as one of the top cosmetics companies on Instagram, with more followers than L'Oreal, CoverGirl, Estée Lauder and Lancôme combined.
The growth of Motives is absolutely incredible, said Loren Ridinger. Through social media we have been able to combine our passion and beauty expertise with the social influence of amazing makeup artists and have become one of the fastest-growing brands in social media. Now with our new online party, sharing Motives socially couldn't be easier for everyone.
Ridinger's collaboration with actress La La Anthony in the creation of Motives for La La has brought beauty in every shade across the world and has received worldwide media attention. Anthony will be on hand to showcase the latest developments with the line and spotlight upcoming trends.
For Lumière de Vie, the widely successful skincare brand by beauty and fashion expert Amber Ridinger McLaughlin, the new Needle-Free Serum will be announced. This serum provides a quick tightening effect of the skin while improving the appearance of fine lines and wrinkles, revealing softer, firmer-looking, supple skin. The Needle-Free Serum complements the existing products that have garnered worldwide press and devoted followers after experiencing remarkable results.
After debuting a year ago, DNA Miracles and DNA Miracles Natural, created by Amber Ridinger McLaughlin and Duane McLaughlin, will welcome its newest addition — DNA Miracles OPC-3® Chews — to its current line of high-quality body and wellness products for babies, children and expectant mothers. DNA Miracles OPC-3 Chews contain powerful free-radical combatants and promotes many healthy benefits. In addition, DNA Miracles is adding a complete line of six children's nutritional products designed to address the health needs of children as they grow.
The company will announce several enhancements to the SHOP.COM mobile site, including improved speed and performance as well as new features such as customer reviews, SHOP.COM Groceries and coupon codes. SHOP.COM has also designed upgrades to its mobile application to enhance its functionality and user experience. We are committed to the company's mobile development and making SHOP.COM the greatest mobile shopping experience available, said Steve Ashley, Vice President of Mobile & Social Products. We want the world to know that SHOP.COM's mobile platform offers the best value and most convenience anywhere.
The company's weight loss division, TLS Weight Loss Solution, will add TLS Green Coffee plus Garcinia Cambogia to its line of product offerings. In addition, TLS will open registration for the TLS Find Your Fit 2014 Challenge. This year's challenge will offer over $50,000 in cash prizes. Participants may register and view more information by visiting tlsSlim.com.
The annual conference has also been the springboard for several up-and-coming new artists, and this year is no exception. Attendees will be treated to musical performances from Conquer Entertainment™ artists including Jeneen Terrana, Stevi Leigh and Mark McKinney. Duane McLaughlin will also perform his new hit single We the People (Prove You Right).
This is the biggest, most all-encompassing event we've put on in the history of the company, said Marc Ashley, Market America Chief Operating Officer. The company is stronger than ever. We're developing new technologies and new products to meet the demand of the marketplace, and we're looking forward to bringing on new, talented entrepreneurs as we pursue our mission to change the way people shop and to convert spending into earning.
ABOUT MARKET AMERICA, INC. & SHOP.COM
Market America, Inc. is a product brokerage and Internet marketing company that specializes in One-to-One Marketing. Its mission is to provide a robust business system for entrepreneurs, while providing consumers a better way to shop. Headquartered in Greensboro, NC, the company was founded in 1992 by President and CEO JR Ridinger and has generated $5.5 billion in accumulated sales. Market America employs nearly 750 people globally with operations in the United States, Canada, Taiwan, Hong Kong, Australia, United Kingdom and Mexico. Through the company's shopping website, SHOP.COM, consumers have access to over 40 million products, including Market America exclusive brands and thousands of top retail brands. By combining Market America's entrepreneurial business model with SHOP.COM's powerful comparative shopping engine, Cashback program, Hot Deals, ShopBuddy™, social shopping integration and countless other features, the company has become the ultimate online shopping destination.