Morinda Changes It's Pay Plan
August 21, 2014
By Tina Williams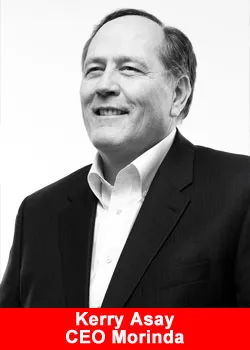 Morinda, which for 20 years has been a leader in the network marketing industry in terms of commissions payout, is innovating its payout plan again; implementing a never-before-seen commissions structure, The Area Developer program.
Morinda recently announced the additional compensation opportunity at its North American Business Summit in New York City.
The Area Developer program has unlimited, untapped potential for success, Morinda's Vice President of Marketing, Shon Whitney said following the event. The program really puts the power in the hands of our distributors. Whether they have been with us for years, or whether they just started their business last week; everyone has an equal opportunity to see success with the Area Developer program.
The program, which launched August 1, is designed to reward developers for finding and establishing fellow business builders in untapped markets. Its goal is to create expansion, spark growth in existing markets and establish an elaborate network of entrepreneurs.
It emphasizes increasing one's organizational volume incrementally in specific geographic target areas over previous volume and production. If specific percentages are met (learn more here), business builders can earn immediate bonuses of anywhere from $5,000 to $25,000. Additionally, if this is accomplished in multiple qualified, geographical locations, the business builder is considered an Area Developer in each of those regions and is entitled to the Area Developer bonuses every time they qualify.
Qualifying as an Area Developer not only guarantees the individual the title of Area Developer on a permanent basis, but also enables them access other bonuses and rewards as they continue to progress their business even further.
The new Area Developer program is a big shot in the business building arm, says longtime Morinda distributor, Kitty Hilton. With the careful planning and considerations of the program, it is possible for most anyone to achieve.
The launch of the Area Developer program is just one of many strategic moves the thriving, international company has made recently. Morinda has introduced several new product lines this year (TruAge Performance, TruAge Body and TruAge Skin), launched a brand new, online health and business community (TruAge Community) and has sparked a global health awareness phenomenon with its AGE awareness initiative.
About Morinda
Founded in 1996, Morinda is a global, research-driven company with a mission to use the power of nature to help people live healthier, longer lives. Cutting edge technology and extensive research have allowed Morinda to develop an innovative TruAge product line, as well as other natural wellness products that reflect its passion to help people live younger, longer. Morinda is headquartered in Provo, Utah, and has a presence in more than 70 countries worldwide.