Nerium Expected To Expand Into Mexico October 2014
August 7, 2014
By Nicole Dunkley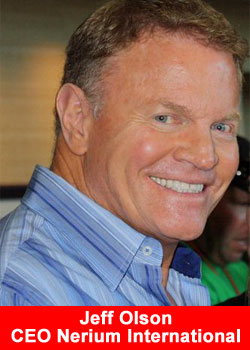 Nerium International™ is expanding its international footprint by opening for business in Mexico by October.
It is an absolute honor to continue achieving our dream of international expansion. I know we will reach new heights en Mexico as we welcome General Manager of Mexico Alfonso Todd, a remarkable individual who shares the Nerium values and cultures, to our Nerium family, says Founder and Chief Executive Officer Jeff Olson.
Since its August 2011 launch in the US, Nerium has created skincare products focused on science and clinically proven to produce real results. After achieving numerous records while building millions of consumer fans in the U.S., Nerium expanded throughout Canada this year.
We are firm believers of slowing down to go fast, and we followed this plan when we started our global journey in Canada earlier this year, says President of International Roy Truett. We are thrilled to open Mexico in a way that will ensure our Brand Partners receive the best product, tools, support, and training.
The Nerium Product Development team spent two years developing OptimeraTM Night and Day Cream, a cutting-edge, anti-aging international product line. As the only line of skincare products on the market containing the patent-pending SAL-14TM extract, Optimera Night and Day cream improve the appearance of lines and wrinkles, discoloration, uneven skin texture, enlarged pores, aging or loose skin and help the skin appear firm and youthful. In clinical trials, 93% of participants had an improvement in the appearance of wrinkles and 97% had an improvement in the radiance of their skin.
There has been a lot of excitement around our international product line, Optimera and that excitement will continue to build as we introduce this product in Mexico, says Co-CEO Jeff Dahl. Having worked the Mexico market for six years, with an office in Monterrey, I have a deep appreciation for the local industry and understand the business requirements of our future Brand Partners. Along with Alfonso and Roy, we will make sure to provide a high level of support to our new Brand Partners, and build a record breaking business in Mexico just like we are doing in the U.S. and Canada.
In addition to breakthrough products, Nerium has great leadership heading up this country opening including: General Manager of Mexico Alfonso Todd. With 20 years of industry experience as a marketing director and general manager in Mexico for notable direct selling companies such as: Betterware LTD, Sunrider International, USANA Health Sciences and MonaVie LLC, among others. Todd was also instrumental in launching some of these companies in Mexico, Argentina, Colombia, Peru, Dominican Republic, Puerto Rico, as well as the Hispanic market in the United States.
I am privileged to join the Nerium team as it grows across borders. It is rare for a company to be as dedicated as Nerium is to expanding internationally while providing extraordinary opportunities for its Brand Partners and customers, says Todd.
About Nerium International:
Nerium International™, LLC, headquartered in Addison, Texas, is a relationship marketing company that markets breakthrough products validated by science. Since its August 2011 launch in the US, Nerium has reached record-breaking sales and earned industry accolades while building millions of consumer fans along the way. Led by an executive team with more than 200 years of collective industry experience, Nerium International is committed to developing and distributing skincare products that are rooted in real science, produce real results, and improve consumers' lives.