New Moves Are Proving The Herbalife Business Model To Be Widely Accepted
August 14, 2014
By Tina Williams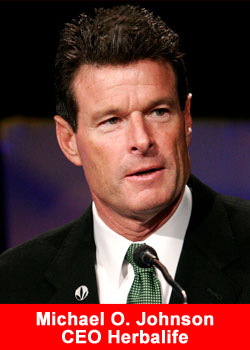 According to Bidnessetc.com, recent moves are proving the Herbalife Business model to be widely accepted.
Herbalife Ltd. (HLF) stock is up 4% today, and has gained roughly 7% since Bidness Etc asked investors to go long last week. The rise today, followed the news of Capital Research increasing its stake in the company and a number of insiders taking long positions in the stock. These moves have improved investor sentiment, leading to a rise in the stock. In addition, the company's long term prospects remain strong and Bidness Etc rates the stock a Buy at current valuations.
According to recent news, Capital Research has increased its stake in the company from 8.5% to 10.1%, joining the league of investors like Carl Icahn and Fidelity Investments, both of whom have stakes larger than 10%. After increasing its stake, Capital Research has become the third-largest shareholder in the company.
The continuing confidence of Carl Icahn and now this move by Capital Research reflects their belief that Herbalife is not a pyramid scheme and that investigations by Federal Trade Commission (FTC) are not expected cause any significant damage to the company's reputation.
In addition, a number of insiders including Chief Operating Officer Richard Goudis, President Des Walsh, and Chief Financial Officer Desimone, have recently increased their stakes in the company. This further supports the argument that there are no significant problems with the company's business model and it will continue to create value for the shareholders.
Herbalife: Real Demand Exists
One of the biggest concerns related to Herbalife is that its products don't have real demand and it earns a major portion of revenue through recruitment, which makes it a pyramid scheme. However, this doesn't seem to hold true in the light of recent surveys conducted by the company and other organizations.
According to these surveys, around 87% of the company's customers in US are not members and more than 90% of them say that they intend to purchase its products again. This shows that the consumption of Herbalife's products is backed by real demand.
Apart from this, the company has been investing into other marketing strategies as well, to reduce its dependence on multi-level marketing. It launched a social media campaign named "CR7 Driven to Perfection" with Cristiano Ronaldo to benefit from the craze created by the FIFA World Cup. The campaign asked soccer star's fans to create and post either a photo or video on Facebook, showing how they strive for perfection.
The winner's video was posted on Ronaldo's Facebook profile as his favorite video. Investment into these marketing campaigns reflects that there is real demand for Herbalife products and that the company wouldn't be spending large amounts on such campaigns if it did not expect returns.
Herbalife: Buy The Low Valuation
Herbalife is currently trading at a forward P/E multiple of 7.9x, which is 27.5% lower than the average over the last one year. The low valuation is primarily a result of concerns about the company possibly being a pyramid scheme and that the FTC's investigations into the company could hurt valuations.
However, in the light of recent events discussed above, and other initiatives taken by the company it seems very likely that the company is not a pyramid scheme. Therefore, concerns related to the company are likely to recede going forward, resulting in a further rise in the stock. Bidness Etc continues to remain bullish on the company.