Stella & Dot's CEO On The Brink Of Making A Billion Dollars
August 18, 2014
By Tina Williams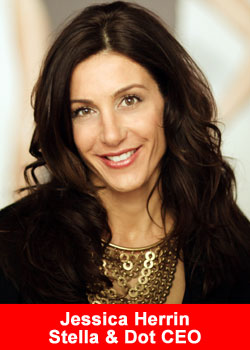 It's a sunny, cold morning in Manhattan, too early for most people to be up. But in the New York showroom of the costume jewelry retailer Stella & Dot, a posse of chic employees are already caffeinated and hard at work. They are shoulder to shoulder around a long conference table, looking at bling—bib necklaces, bangle bracelets, cocktail rings, a rhinestone brooch fanned in feathers.
Busy grouping pieces into families is a raven-haired woman dressed like a high-fashion biker, right down to her black ankle boots: Jessica Herrin, 39, Stella & Dot's CEO and founder. She lines up a row of necklaces, pulling out a golden rope chain that has a dangling trio of hearts.
She puts it around her neck and hoists the chain until the pendants lie against her sternum. "We need midlength," she says decisively to her team. "It's a style that works for everyone, everywhere. Dresses up or down. It's fun or functional."
Herrin's close attention to her products and to the reasons women buy them has turned the business into a huge success. Since relaunching in 2007, Stella & Dot (stelladot.com) has paid out more than $100 million in commissions to its 20,000 sales reps.
Remarkably, it is the second phenomenal business Herrin has launched. In 1996, as a 24-year-old student at Stanford Business School, she cofounded one of the first online gift registries for brides, Della & James. Within months, the site expanded into a full-service bridal portal and merged with WeddingChannel.com.
Herrin and a business partner appeared as guests on Oprah, where they were introduced as women who "followed their hearts and found their fortunes.
But grateful as she was for her success as an entrepreneur, she also felt deeply ambivalent about the cost to her life. "For four years, I worked every night and weekend," she says. "I'd just married, and I never saw my husband. I wanted to start a family, but I couldn't see adding a baby to the picture."
Then Herrin's husband was offered his dream job, out of state. She left WeddingChannel.com and moved from Northern California to Austin, Texas, where she became a senior manager in e-commerce at Dell computers.
"The job was challenging, but in a completely sane way," Herrin says.
So sane that by the time she found out she was pregnant with her first child, Herrin was using some of her free nights and weekends to work on creating her ideal business—in her words, "a company that you own but that doesn't own you."
This time, instead of thinking about developing a business the usual ways —what will be my product? Who will be my customer?—Herrin focused on a target employee: a woman with kids who needs flexibility. At first, all Herrin had to go on was a memory of a Mary Kay cosmetics convention she'd once observed at a hotel. "It blew my mind," she says. "The women were over the moon with excitement and joy."
She began researching home-based direct-sales businesses that sold makeup, vitamins, candles or kitchenware. "But none of them resonated with me," she says. In her view, the products weren't irresistible. Worst of all, they weren't very lucrative for the salespeople. (The Direct Sales Association reports that the median annual income for a home-based vendor is $2,400.)
Still, Herrin saw potential. Crafting was booming, and Herrin thought a business based on at-home jewelry-making parties seemed like a possibility. "Everyone wants beautiful things," she says. She turned a sunroom off her kitchen into a craft room, bought some beads, stones, chains, hooks and clasps and came up with the design for a DIY kit. While still working at Dell, Herrin named her fledging company Luxe Jewels and found a factory that would produce the kits.
Three months pregnant with daughter Charlie, Herrin held her first trunk show. She served her friends Merlot and artisanal cheeses and pocketed $450. By the time Charlie was crawling, Herrin had hosted 13 Luxe Jewels trunk shows, most at other women's homes, and earned $8,000 in profits. In 2004, Herrin resigned from Dell so that she could begin recruiting Luxe Jewels sales reps. In 2005 the company's revenue hit $550,000.
Read more on more.com